Auto Hero: Auto-shooting game is a simple but attractive shooting game. Not some romantic western cowboy, you will now transform into a force gunner with muscular muscles and mighty guns in your hands. Going from terrain to terrain, as long as you appear, all monsters must be scared. Show your strength, then take down the bosses standing behind, and unlock the whole game.

MAKEUP FESTIVAL
The updated version welcomes Halloween with countless special events. Join the wars and quests, then collect a lot of event candies, participate in the particular spin and wait for the attractive gifts. This version also welcomes a new superhero with the powerful gun – The Agony in hand. In addition, the publisher also updated you with five new gun skins and three unique character costumes released only on holidays.

CLASSIC GAMEPLAY
Auto Hero does not have many new ways to play, but this game is still a reliable choice for many gamers with the spirit of attacks. In this game, your job is to move constantly; it avoids the enemy's attack and finds the right angle to discharge bullets. The gun will be fired continuously, so you only need to worry about finding a way to move correctly.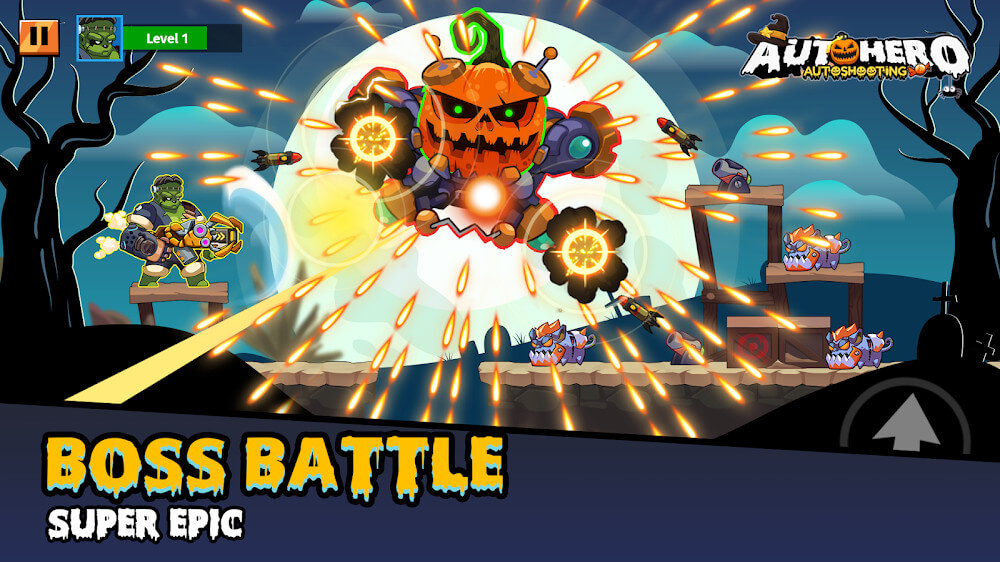 Defeat the enemy, and there will drop a lot of gold, rewards, and new ammo models. Quickly pick them up and put them in the inventory to flexibly use during combat. Choosing the right ammo will help you shoot down a large number of enemy troops in a split second; it gives players a feeling of extreme pleasure and excitement. At the end of each round, super monsters are waiting for you. They have a terrifying ability to attack, so you need to be really skillful to defeat them.

CHARACTERS INNOVATION
There are dozens of characters and more than 140 different guns, helping you diversify your choices. Accumulate enough money needed, then choose the characters you feel like. Buy more high-end guns to be ready to participate in tough battles. Auto Hero gives you more than 150 different missions, ranging from easy to difficult. The later, the more complex the game screen, so upgrading the character is a must for you to do.