Bus Simulator Indonesia will take you to a beautiful country known for its culture and ancient architecture. If you have ever dreamed of once setting foot in Indonesia or visiting this place but still have not discovered all the beauty of this place. That's a pity, isn't it? But do not rush to regret it because this game will help you fulfill that dream because you will become a bus driver to pick up your passengers. Just sitting at home, you are still free to see this country without any restrictions.

VERY FUN GAMEPLAY
When entering the game, a beautiful space about the country of Indonesia will appear in front of your eyes, and you will sit in the position of the bus driver to take your car everywhere. On the journey to explore this land, don't forget the mission, enjoy the fun, and be negligent. The task associated with you is to hold the steering wheel firmly and shuttle your passengers up and down at different locations marked on the map. After completing the missions, you will receive evaluation points and bonuses to make your car look better.
To complete the mission and bring the passengers to the right place, you need skillful driving skills and be extremely careful not to cause any risks. You must always be flexible and agile to be able to cope in any situation. Don't worry because the gameplay is quite simple, and the control system is the same; the cockpit is designed in a very detailed and realistic way for you to use easily. You will get used to controlling the car with three essential keys such as steering wheel, throttle, and brake.

CUSTOMIZE YOUR BUS
You will not need to care about the variety of Bus Simulator Indonesia because the game has more than ten different buses from models to colors. The developer has also been conscientious when simulating cars with the typical and popular style of buses in Indonesia. You can find them in the garage and buy yourself a unique car that you like. As for the price, there is a big difference when the cheapest car is only 100,000 Rp while the best and most expensive car is 1,800,000 Rp. So if you want to own a car collection, you have to work hard to earn a lot of money.
If you like creativity and want your car to look good and reflect your personality better, the system still has a custom mode that allows you to redesign everything. You can change the car's color to your liking or design the entire interior and exterior of the car. In addition, when you come to the upgrade section, you can replace car parts such as tires, headlights, or speakers. There are many items for you to choose from and they are also relatively cheap so you can easily change them.

GRAPHICS OF THE GAME
There is nothing to criticize in a good simulation game like this, even in terms of graphics. The image of the game is designed with stunning and detailed 3D graphics. Often a game built on high-quality 3D graphics and using sophisticated image processing technologies will sometimes consume a fair amount of data. Therefore, to experience the game smoothly, it requires you to have a high-configuration machine. But don't worry because this game consumes quite a bit of space, so your experience will not be affected.
Thanks to the game's design team, who sketched out the roads, locations, and tall buildings based on real-life images of Indonesia, you can see the beauty here in the most exactly. Especially the map in the game is extensive enough for you to see as if you are on a trip to this land, you can explore anytime you want.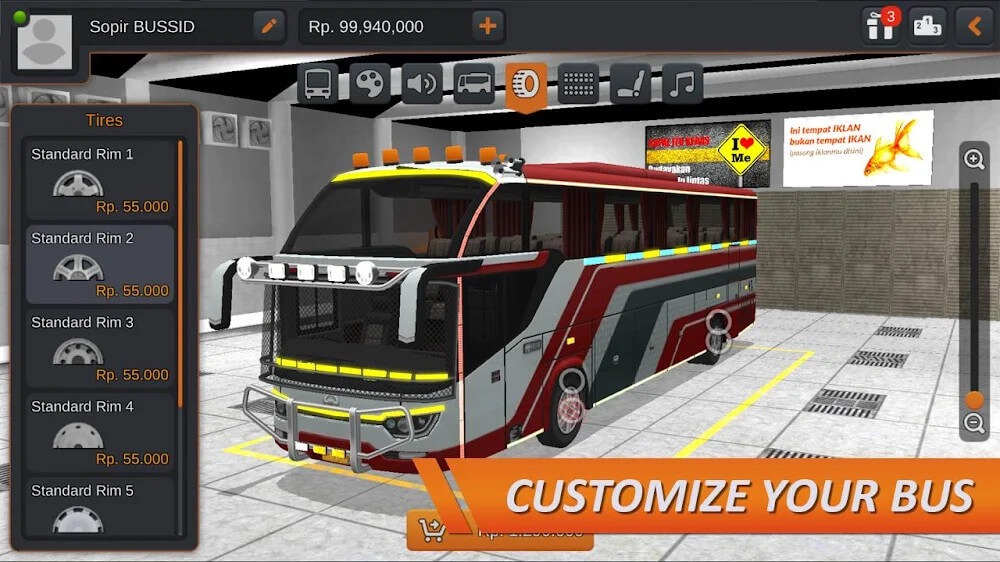 If you love this country and want to learn more about the beauty of Indonesia, coming to Bus Simulator Indonesia, you will be satisfied with everything. Not only that, but you also have the opportunity to learn and understand more about the operation of a bus. So what are you waiting for without becoming a bus driver to know more about this job?
KEY FEATURES
Very straightforward and natural control.
Cities and locations in Indonesia that are really Indonesian
Indonesian Buses
Honks that are amusing and cool
"Om Telolet Om!" (Uncle, make some noise with your horn, Uncle!
Superior 3D graphics in both quality and detail
While you're driving, there can be no distracting adverts.
Leaderboard
Data saved online
Make use of your own 3D model by way of the vehicle modification system.
Convoy for online multi-player games