Castle Cats – Idle Hero RPG is a game where players will experience idle gameplay and get themselves an impressive and cute number of cats. You will spend time building your base and overcoming various challenges. At the same time, there will always be levels that you must pass and collect impressive rewards. Indeed this is a game that any player will like and especially those who love cats.

ENTER THE IMPRESSIVE CAT WORLD
When you start with Castle Cats, then you will be impressed with the graphics it can bring. The game world is designed in a fantasy style where you will meet many cats with different special skills. You will be caught up in the war against other species and build your base to become more developed. So you will act as a Guild Leader and manage essential activities such as making the base, participating in the battle, and collecting new cats to the Guild.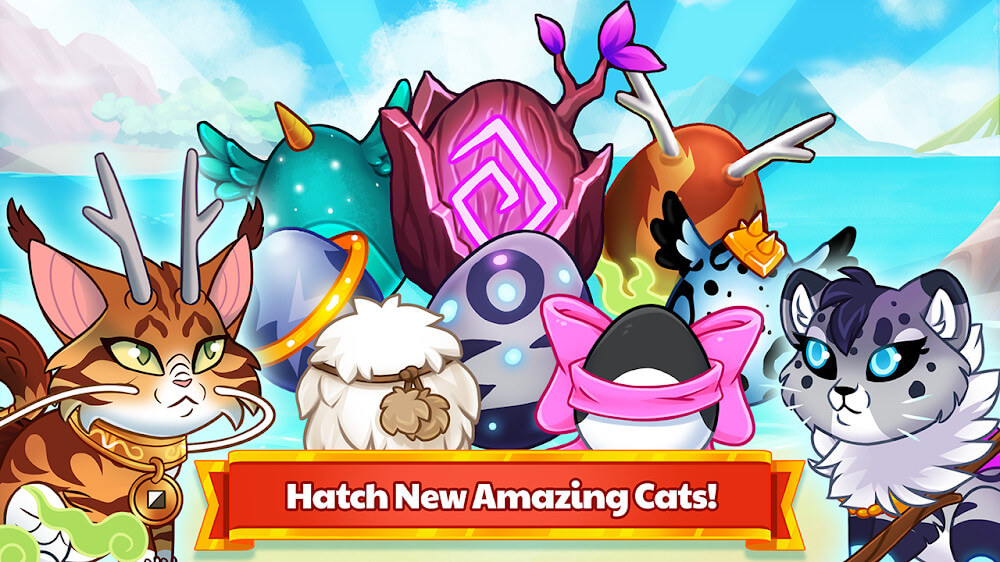 You will observe your Guild in 2D with the cats always moving, and you can touch them to know the cute reaction. At the same time, the first job that you will need to do is customize your avatar as a cat. It can change shape, wear different equipment and costumes. Over time, you will be able to level up and unlock many new things for this cat. Since you are the Guild Leader, you will not appear with other cats in the base.

PARTICIPATE IN VARIOUS BATTLES
You will see the battle you will participate in in Castle Cats, and it will be a relatively idle battle. So the way the battle operates is quite interesting that anyone will be able to access. Specifically, the two sides that are enemies will stand opposite each other and continuously attack each other. Your job is to click on your enemies so that the cats can attack continuously and pay attention to the skills they possess. When a black background does not cover their portrait, you will be able to use the skill.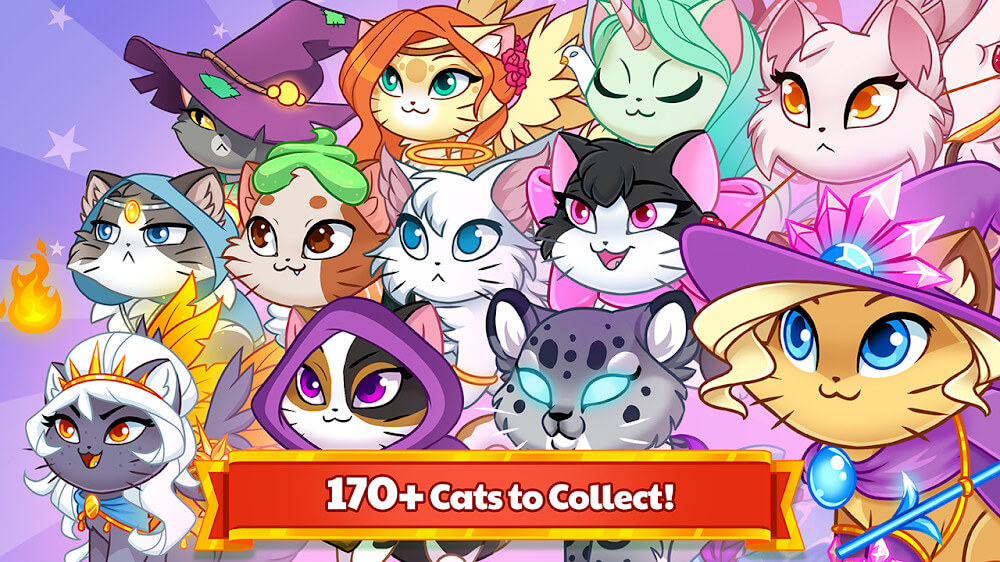 Just click on the portrait; the skill can be performed immediately and does not require much control. Therefore, all focus on the skills and strengths of each different cat. At the same time, when you participate in a certain level, you will see the level it requires and the skill it must bring. You will need to send cats with the corresponding skill to battle with the Guild Leader. Although not in the location selection, the Guild Leader is still a member joining other cats.

OVERCOME MANY CHALLENGES AND COLLECT AS MANY CATS AS YOU CAN
In Castle Cats, you will see a pretty important tab that you will need to take care of, the quest tab. The questing is evident in many games as it can give you many impressive rewards and a guide when the player starts the game. At the same time, this mission is quite diverse and does not focus too much on a specific aspect such as fighting, building a base, or upgrading cats.
You will be able to unlock many new cats through quests, and after that, you will need to collect many resources such as tickets or diamonds to open. Impressive cats will be delivered in a beautiful box, and you will be curious when you open them. At the same time, you can upgrade these cats easily, and when you upgrade, their appearance will also change. It is a game you can't miss.