Mickey Mouse has been a familiar cartoon icon associated with our childhood. Mickey Mouse has returned with an adventurous journey to rescue Minnie in a Disney game product – Castle of Illusion. Here, you will transform into the character Mickey and start this exciting and challenging adventure. Let's start this noble journey and enjoy endless fun from it.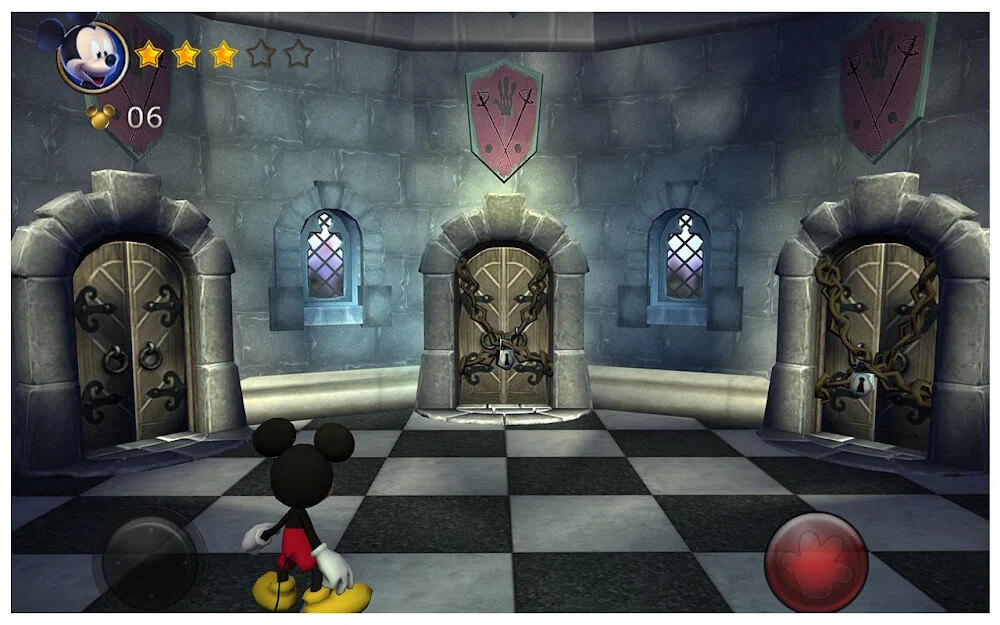 THE JOURNEY BACK TO RESCUE MINNIE FROM THE WOMAN MIZRABEL
Castle of Illusion is an exciting adventure of the main character Mickey Mouse in search of his girlfriend – Minnie. The evil witch Mizrabel kidnapped Minnie to achieve her goal of becoming beautiful and young. Mickey had to brave the danger to enter the castle of illusion to try to rescue Minnie. Mickey will have to perform a series of tasks in this castle to collect 7 precious jewels that the evil witch is guarding. This game is a great reinterpretation of the Sega Genesis classic, and you will have to discover this adventure on your own.
This game is a vast maze, and you have to find the exit door yourself without being given any hints. You will have to combine fighting against the minions of the evil witch and finding the only answer to find a way out. This castle has many different doors, which are illusions, and there is really only one way out. Sometimes it will be challenging for you, but please don't give up. Perseverance will find the gate that opens.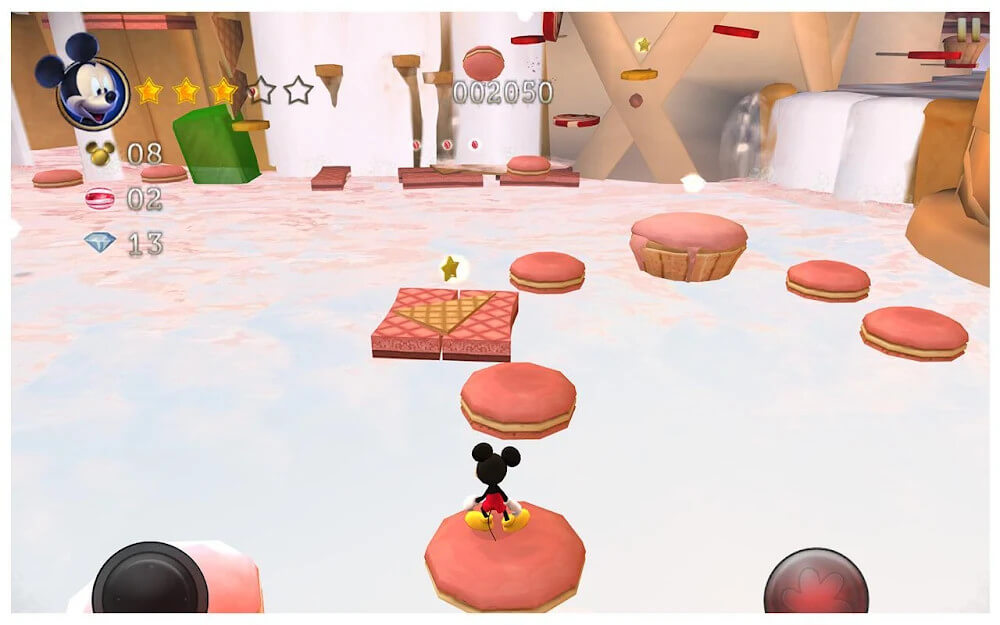 WITCH'S MINIONS GET IN YOUR WAY
7 gems that Mickey must find appear in 6 illusion worlds equivalent to 6 levels that you must pass. Each level that Mickey faces has different difficulty levels and different obstacles. In particular, each level will have stages, and you have to complete each stage to get to the next stage.
Things don't seem so easy because each stage will have many things trying to get in your way. You must avoid and fend off the traps of Mizrabel's minions. If unfortunately, not avoiding those dangerous traps, Mickey will suffer casualties and start his level again.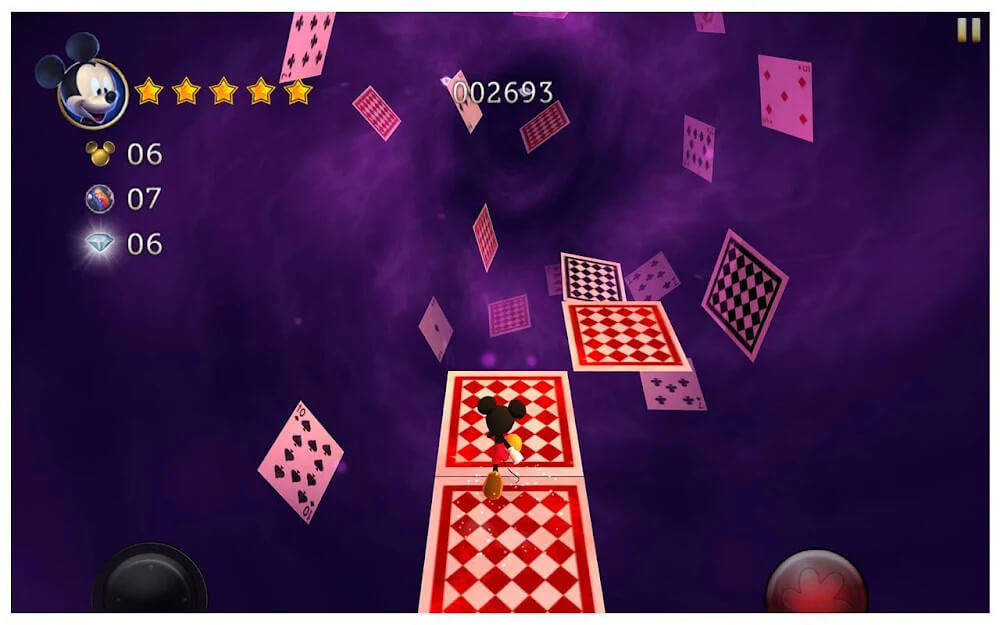 JUMP TO SUCCESS OBJECTIVES AND KILL YOUR CUSTOMERS
Because it is a Disney game, this is considered a healthy game for all ages. There are no gore and violent scenes. In return, Castle of Illusion has fairly simple and light gameplay with jumps that can knock down opponents. However, if you control the jumps without precision, you will lose and have to start over.
The higher the level, the more challenges will increase. You will face multiple enemies at once, and the odds of you encountering obstacles will also increase. On many levels, you will need to practice a lot to win because the first play will make you fall in time. Sometimes you have reached the destination but cannot finish because of being blocked, take advantage of the items on the way to destroy those annoying obstacles.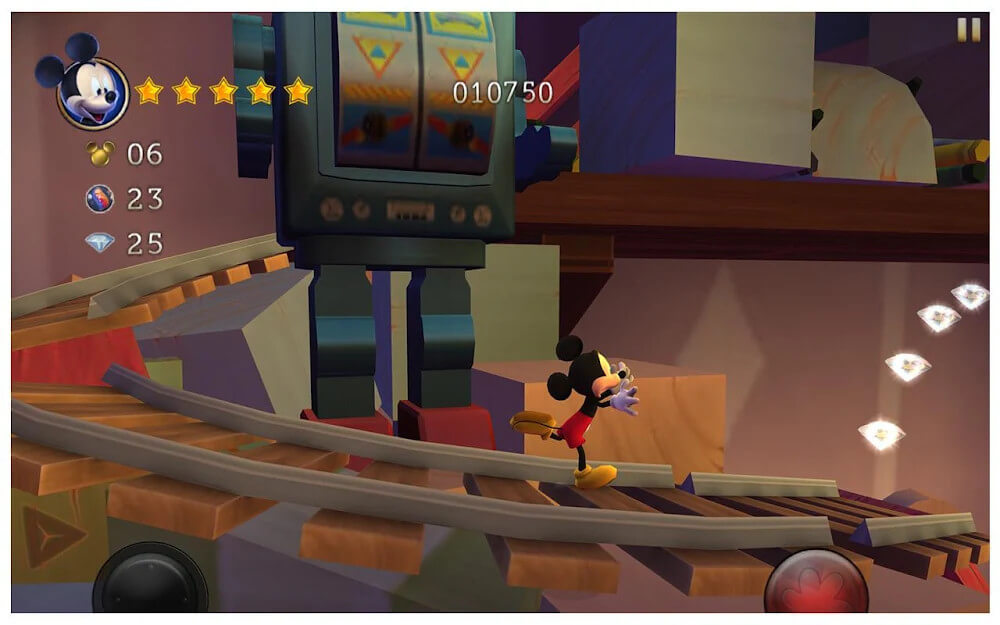 BEAUTIFUL 3D GRAPHICS
Castle of Illusion has been re-realized with completely new and pretty 3D graphics. Along with the epic and overwhelming scenes and the slightly dark colors, you will feel like you are part of this story. Micky's outfit can also be customized once you complete certain challenges.
FAILURE IS MOTHER'S SUCCESS
This is an entertaining game that is quite addictive because it has simple gameplay without spending much gray matter. Time and experience are important for this game because only practice will you find good solutions to find the true door. You need to jump and jump, play over and over until you complete the level. Let your courage and perseverance be the ultimate weapon so that Mickey can rescue Minnie and reunite with her.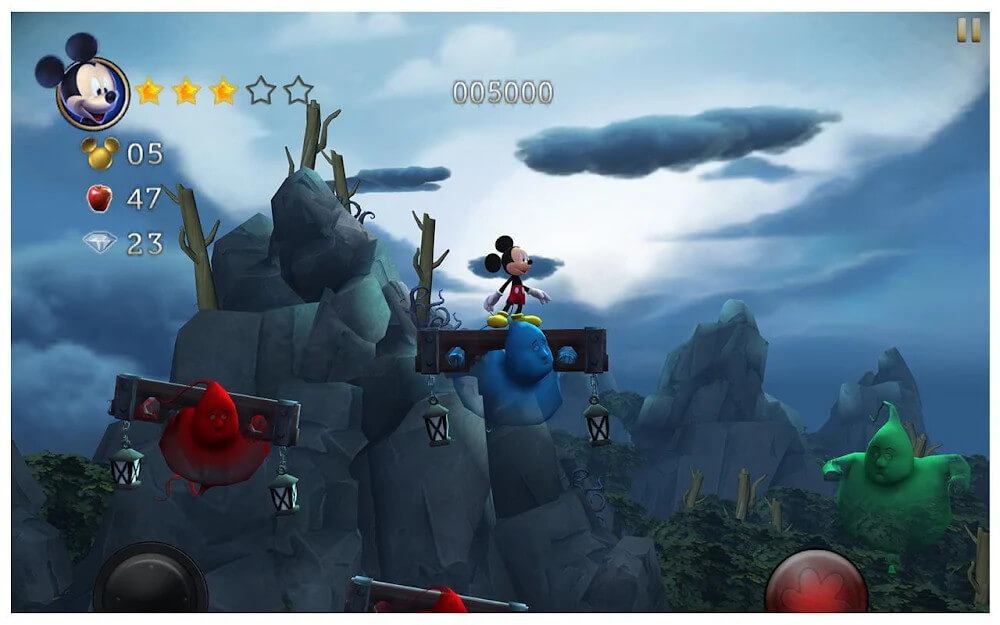 Castle of Illusion is a super cool product that you should try once in your life. Can Mickey rescue Minnie? Did the evil witch achieve her goal? This is the answer that you can decide because the fate of Mickey and Minnie is in your hands. Be brave and don't give up so that scary endings don't have to happen. If you have troubles and worries, then this is the perfect game for you. Put aside the things that make you squirm and start this addictive game. It will help you relax and have fun easily.