Do you think the animals in the park will one day become criminals? Of course, it is possible with Goat Simulator Payday. You will experience a new storyline when participating in this fun game mixed with action elements. Step out of the zoo, and you start the journey to beat people, loot to become really powerful. The goat and many unique beasts for you to control to make the city you live in. Have you started wanting to become a rebellious goat in the game?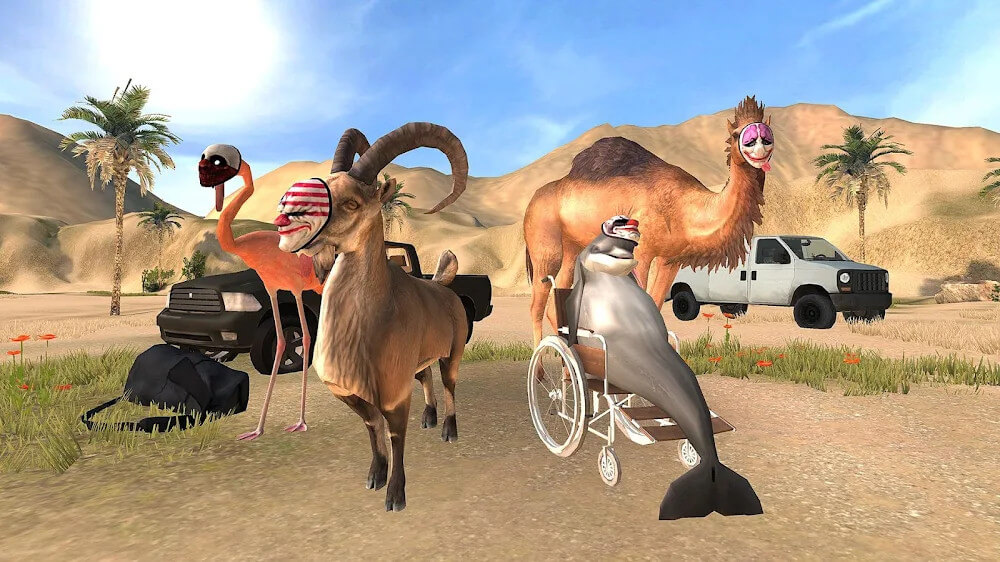 ANIMAL FIGHTING POWERS
You'd be crazy to hear that animals can talk to each other and they're planning to rob a bank. You will control the aggressive action of a goat and its companions. Goat Simulator Payday will be the most interesting game you experience with funny pranks, even hitting people to make money.
In the game, there will be animals for players to control, such as flamingos. It is an effective teammate when it can quickly escape from the police. Whenever it encounters the police, it can fly up and is rarely caught because it is the most professional thief. It would be remiss not to mention the leading goat, a dangerous animal when its attacks are terrifying. This goat can participate in martial arts, and when it wins, it will improve its fighting ability. Use this longhorn goat as the member you need to recruit in your party.
THE MEMBERS OF THE BIGGER GANG
Next is a camel with a hump that stores water, which is this camel's secret weapon. With good endurance in harsh climates like the desert, the camel has had a lot of high survival experience. The big hump on his back could shoot a jet of water, and it would make people feel disgusting.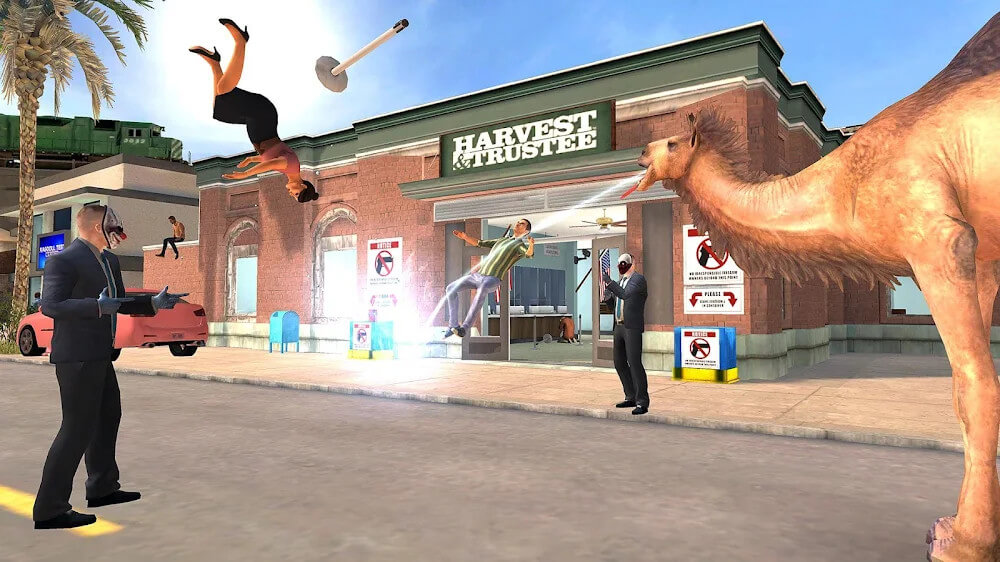 Finally, the only member living in the water is the dolphin. Although living in the water, the dolphins can still walk on any surface in their wheelchair. This dolphin is very intelligent and always has the most unexpected and unpredictable ways of hitting people. Gather all the animals and make them criminals in this underworld. You recruit these animals to form a group that specializes in disrupting and quarreling with many people. Each animal has their own abilities and characteristics, and they always support their teammates when looting.
BREAKING AND MAKE A LOT OF REAL MONEY FROM THE RELATIVES
The goats and their friends will start beating the passersby and stealing their money. Take your goat to steal a car you like and drive it crashing into people or houses around at breakneck speed. Cars are also a means for you to take your teammates away from robberies quickly. The animals conferred in a bar to carry out a dangerous plan to rob the opposite bank. To avoid the police pursuit, you must control these animals to use the attacks and the ability to escape. Once you've made a lot of money, take your monstrous band of bandits to the casino for fun.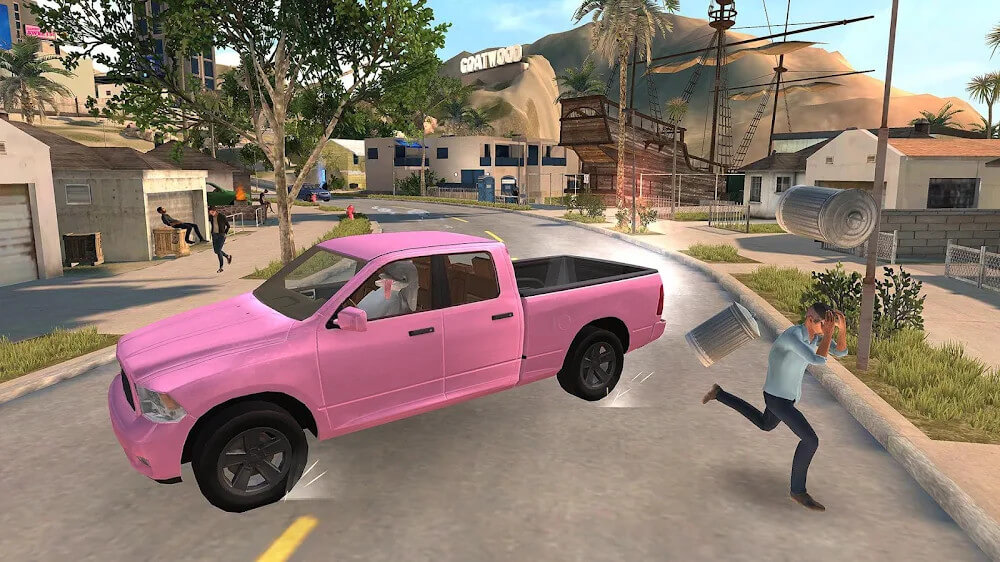 Spend money at a casino called Goat Gambling, or you can make more profit from it too. Use the money to disguise yourself by buying masks printed with the American flag, and this is a unique feature in Goat Simulator Payday. You buy as many masks as possible because it helps your animals outsmart the police or easily blend in to carry out looting missions. Or, you are stylish with colorful masks.
FUN GAME WITH THE LATEST GOAT MODEL TECHNOLOGY
Perform the assigned tasks through the Display Board on the screen. When completing the task, you can collect more money. It can also unlock new animals and new items such as canon, cars, a burger. Many players are delighted with the 3D graphics that simulate the animals and the most realistic scenes. The graphics in Goat Simulator Payday are highly appreciated for their authenticity, depicting overwhelming action sequences. Add more fun for players when the sound is designed to be very fun.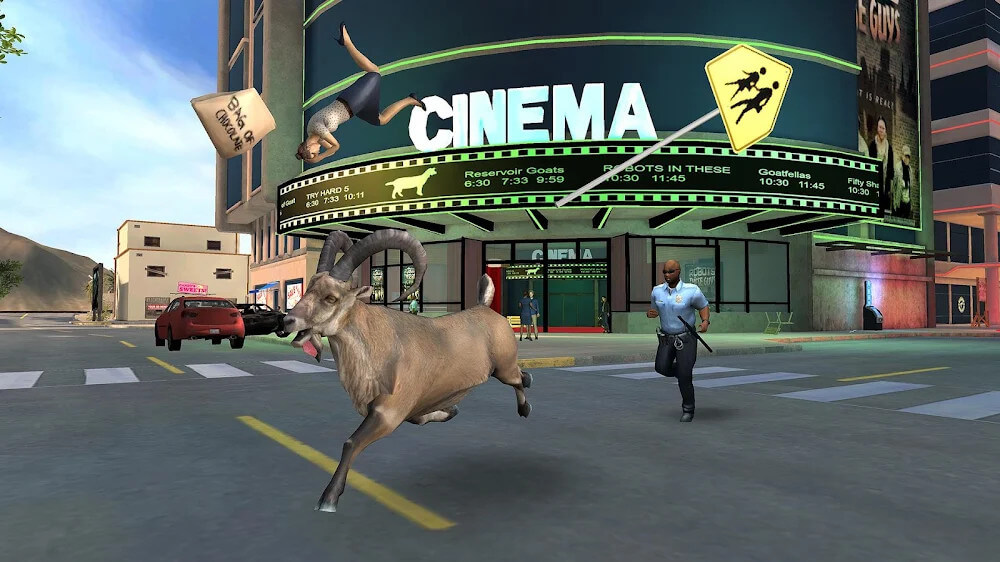 Steal or destroy things around by transforming them into funny animals at Goat Simulator Payday that will make you laugh out loud. Evade the police and mix a lot of money to have the most engaging experience with your teammates. A world of the strangest masked criminal animals you will ever witness is waiting for you to discover. No longer confined to the zoo, you are now free to do as you please.