Jewels Magic: Mystery Match3 will take you to a mysterious castle where you will be able to find really precious jewels. If you are a lover of Match3 games, this will definitely be a name that can make you completely satisfied. With the game, you will be able to make your magical adventures to the mysterious lands where sparkling jewels are hidden.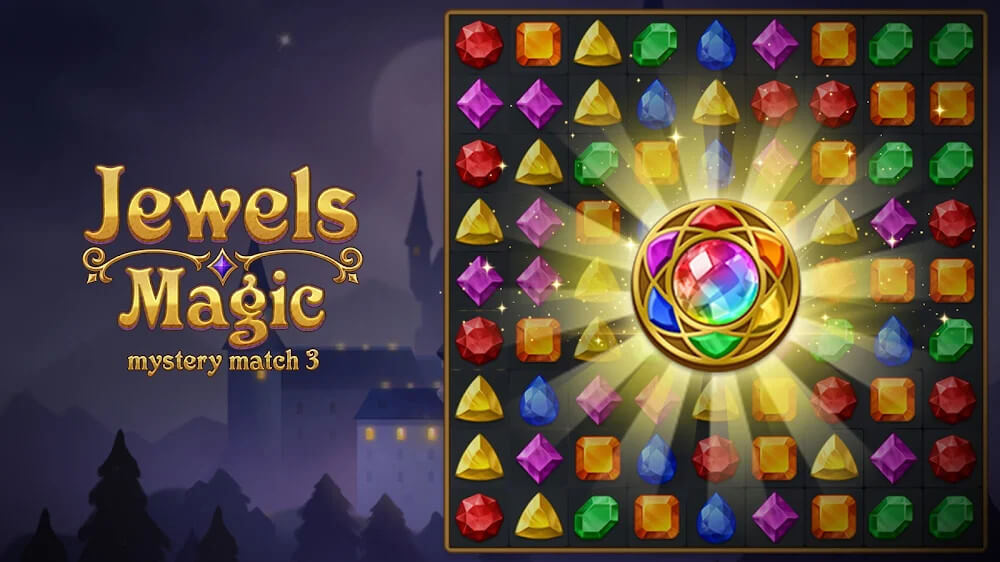 START ADVENTURE TO THE LAND OF MIRACLES
Have you prepared yourself with a unique spirit to start your adventure journey to the magical land? If your answer is "I'm ready," then let Jewels Magic bring you to a magical world – where shimmering jewels are waiting for you. Sparkling jewels full of colorful colors are waiting for you to discover the mysteries surrounding it inside this game.
True to the attractive gameplay of Match3 games, players will have to solve puzzles to continue the adventure. But this will not be an easy road for you to pass quickly. The developers of this game have created a system of puzzles arranged in order from easy to difficult through consecutive rounds for adventurers. Show that you are a talented person and overcome these challenges quickly!

MIX Gems and CREATE BIG BANGS
If you are familiar with this game genre, its gameplay is relatively similar to classic games. But instead of following the expressions like other games, this game will give players an exciting feeling with the gems. If you match three gems in a line, an explosion will be performed on the screen. That will be the player will have to find ways to put the pieces of the same shape together and make them disappear.

Besides, the game will also have a few notes with each different case of matching gems that you will be able to perform in the game. With a combination of 4 gems, you will create Lightning Gems, and it can explode all the gems in a row or column quickly. If with five gems, players will be able to match in many styles such as L-shaped, T-shaped, or circle, … and for each type of match, you will get a different effect.
Traditional Match3 games will always give players unique attractions. But if the game knows how to combine classic style with innovation, the result will create a special game for players. And Jewels Magic will be a name that can perform very well and bring you excitement to experience.