If you are a big fan of LEGO and want to join exciting adventures, you can't ignore LEGO Batman: Beyond Gotham. One of the best-selling LEGO Batman franchises of all time is back in an out-of-this-world action-adventure. You will play as Batman and join forces with characters from the DC Comics universe. You will be the hero, flying into space to stop the evil Brainiac from destroying the earth.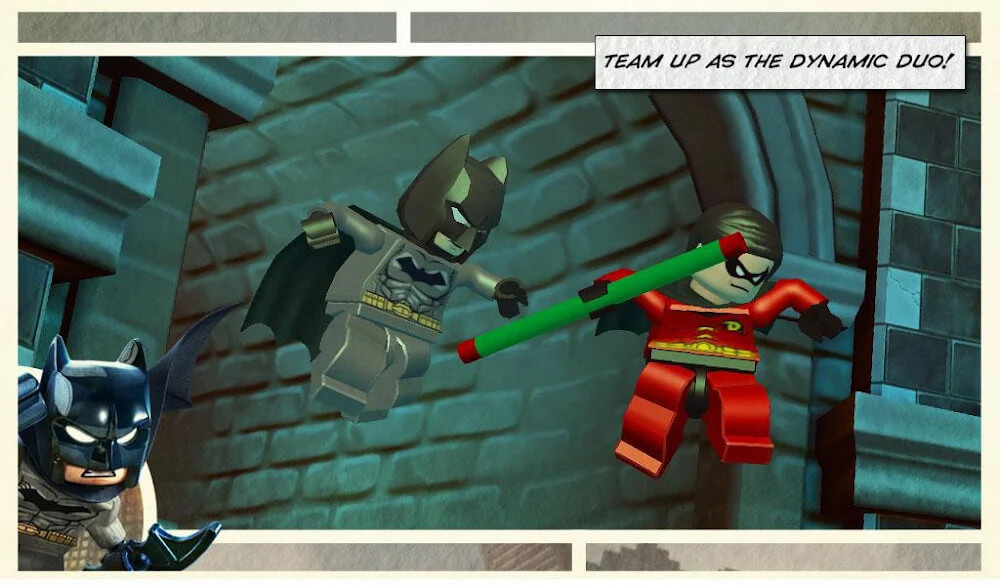 100+ HUGE CHARACTERS JOIN
The gameplay of this version is similar to the previous games. Players will play and unlock more than 100 major characters. They will bring with them great abilities and supreme power. The game will include members of the Justice League, LEGO BIG figures like Solomon Grundy, Lantern heroes and villains, and more. The special thing is that all of the above characters can be earned without additional purchases. You will find characters, own them through battles, or be rewarded for winning.
UNIQUE SKILLS AND CHARACTERS OF CHARACTERS
The great heroes and even the villains appearing in the game possess unique skills. Individual characters can use unique abilities related to their comic strengths and talents. For example, Superman can fly, put out fires with ice vapor, and has heat vision. Atom can shrink its own size to fit in small spaces. Many characters have the same ability in speed or transformation.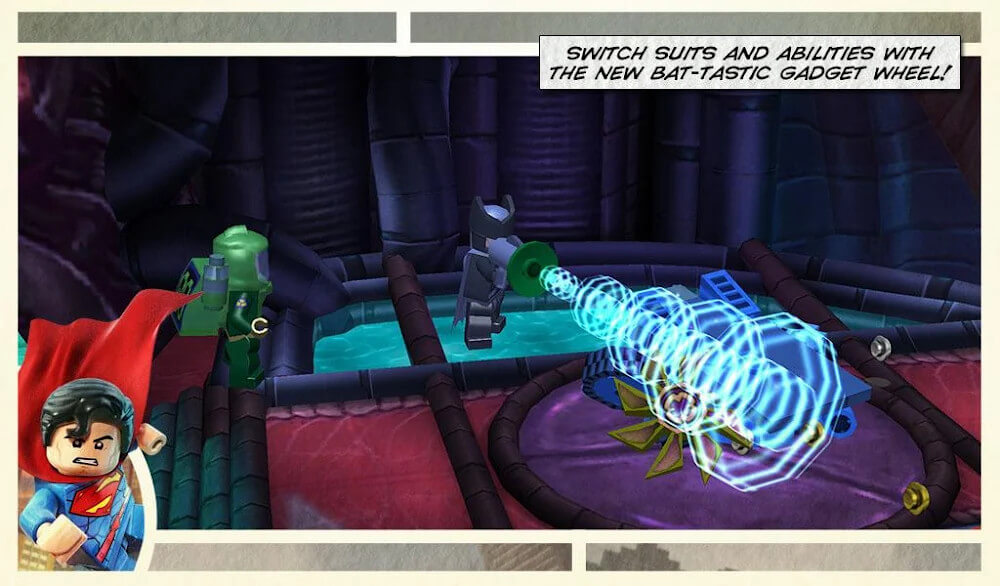 DIFFERENT ENVIRONMENTS
Various combat environments in Beyond Gotham. All are based on old locations in the comic universe. The environment will not have much impact on the participating characters if they get used to them. Like other LEGO games, you will unlock the free game mode when you complete the story mode. You can replay every level they just completed in the free mode, requiring only to use pre-existing characters. Based on that, players can access special areas containing additional items – previously inaccessible places.
HIGH ADVENTURE ROLLING GAME
Unlike other adventure role-playing games, Beyond Gotham always gives players unexpected and equally interesting experiences. Players will control hundreds of lego characters in the game. They will fight the enemy from a third-person perspective. In addition to combat challenges, players also have to perform small tasks such as collecting lego studs, combining puzzle-solving. When you combine well in combat, you'll earn double the number of studs you used to own.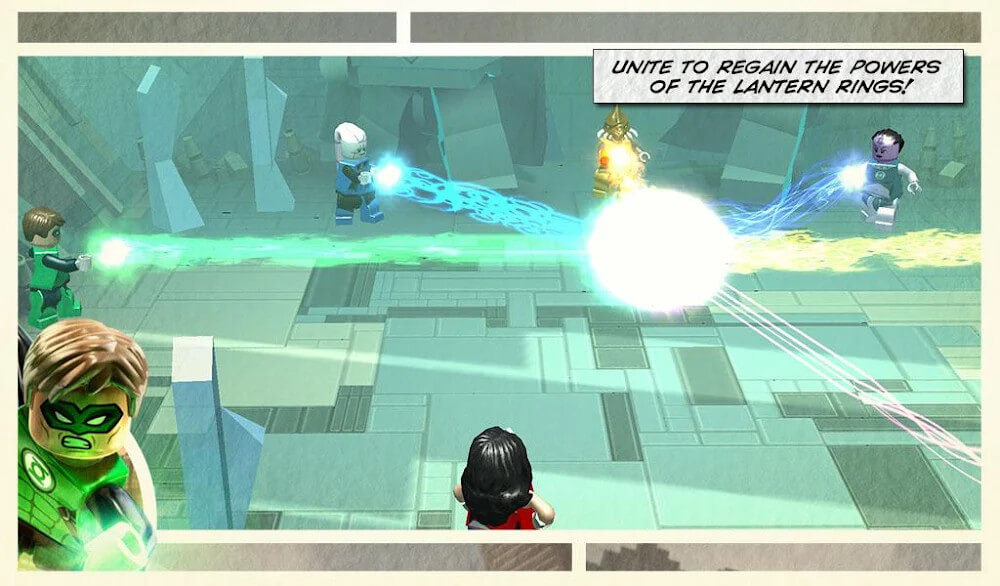 UNLOCK SPECIAL CLOTHES AND UNIQUE ABILITIES
Suppose you've learned or are a big fan of the lego story. Surely you will clearly understand each of their powers possessed in the game. Hero Grant has even more power with super suits like Batman's explosive Demolition Suit, Robin's elite hacker Techno Suit, Stealth Cyborg's Anonymous Suit, and Joker's ingenious Suit. In addition to the inherent abilities of each character, their strength will be greatly affected by the uniform.
BIG SPACES FOR SUPERHEROES
In Beyond Gotham, many separate areas will be divided up for superheroes. In large areas, players can easily search and explore, completing puzzles. Players can access the main areas for each level to complete difficult challenges. You can collect items of different values. In addition, players can create their own characters. Use special parts to make it a secret weapon.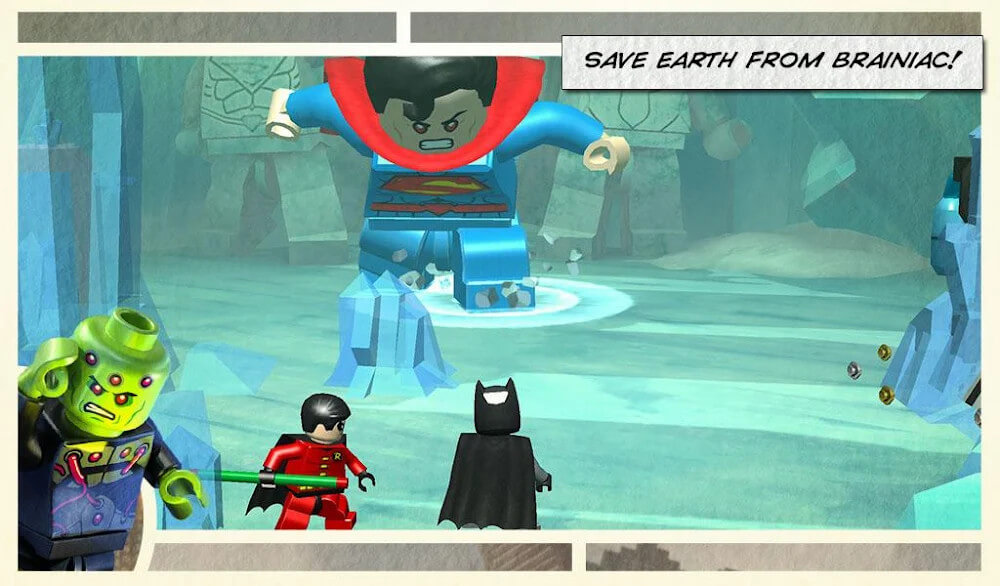 45 BEYOND GOTHAM MISSIONS
The harder the challenge, the more exciting the player will be. The adventure will be set up differently. With each game, you will experience different pleasures. Selective challenges also keep players interested. Adventures across an original story are all set in one space. TLanternoutside world system includes Zamaron and Odym or visits unfamiliar realms DC Hall of Justice in, the Batcave, and the Justice League Watchtower. You will be challenged with different tasks, the possibility of completion is also greater.
ADDED CHARACTERS
Not just for the main characters or the characters available in the game. Some of the added characters also have characteristics that attract players. Fan-favorite characters are pretty much collected, and there are always surprises. They could be Batman Beyond, The Dark Knight, and Batman '66 throughout the year, with many other characters in the works. The characters all bring different interesting things. Those surprises are being tested and coming soon.
With multiple game modes in Beyond Gotham. You will have fun moments with your friends. You can switch between different styles, so you don't get bored.