Merge Cats will bring you to the world of very interesting cats and have a lot of beautiful things. This is an exciting puzzle game; players will have a special task to merge three individuals to create a wonderful cat. There will be many difficulties and challenges for players to overcome in the game. Players will proceed to solve the puzzles that the game sets out to unlock unique cloud gardens successfully. Immerse yourself in the world of cats is very interesting and enjoy the uniqueness here.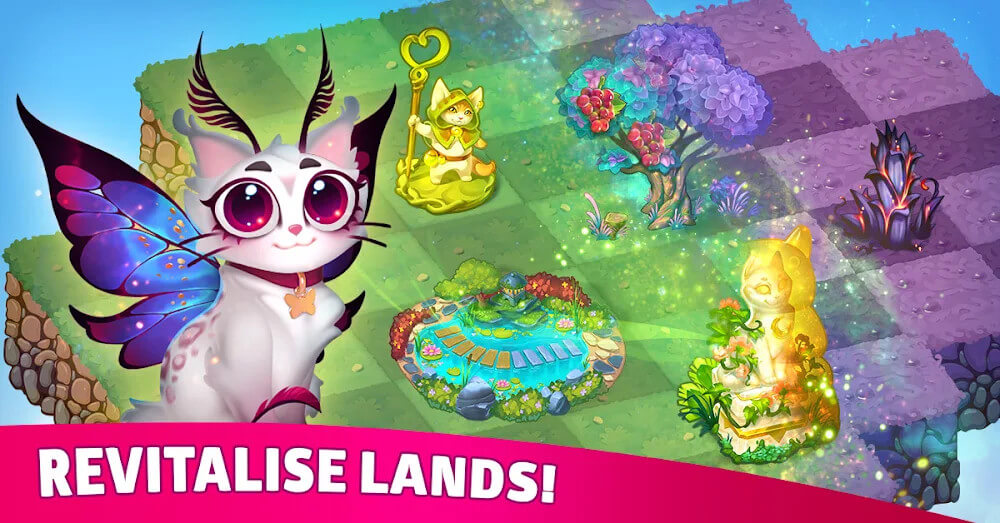 UNDERSTANDING QUESTIONS
Each cat has had an admirable physique from time immemorial, possessing fine white fur and beautiful bodies. But the kingdom is cursed, so an individual is separated into 3. The player has the task of identifying three individuals in 3 different places with the same characteristics in shape and structure to merge to create a strong cat. This is also the giant puzzle that each player must take.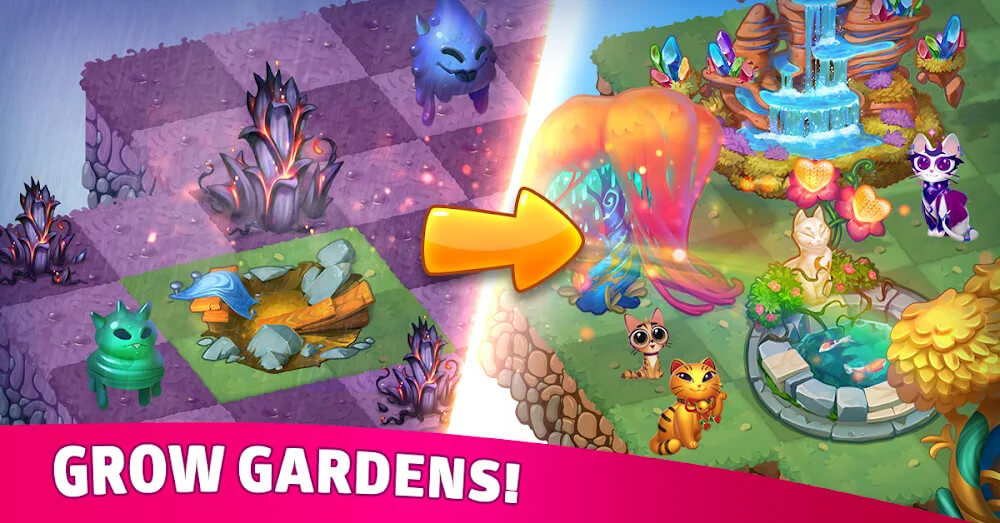 After combining three individuals will create a cat with all the elements, from appearance, personality, and inner mind. That cat will own an area of ​​the garden and carry on the work. You will continue with that mysterious decoding work to develop a strong team quickly. Maybe it's the magical cats, or maybe it's the charming ebony cat that will appear next in Merge Cats.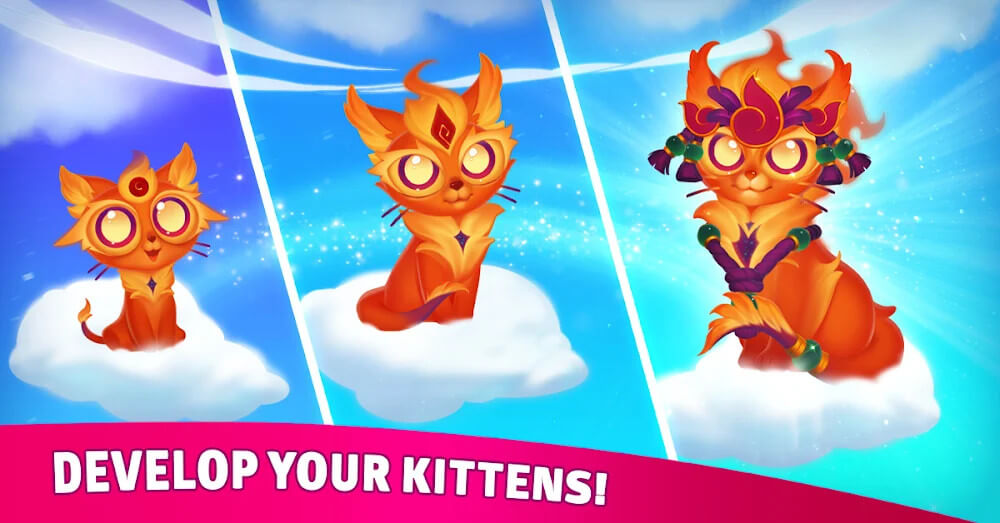 BUILDING A GARDEN IN THE CLOUDS
After completing the unique rescue missions, the player needs to start building everything in the garden. First, arrange everything in the garden and re-plan everything from the location to the plants. Each cat after being freed, will join you in this construction. There will be many stages, so let's combine all the cats to proceed faster.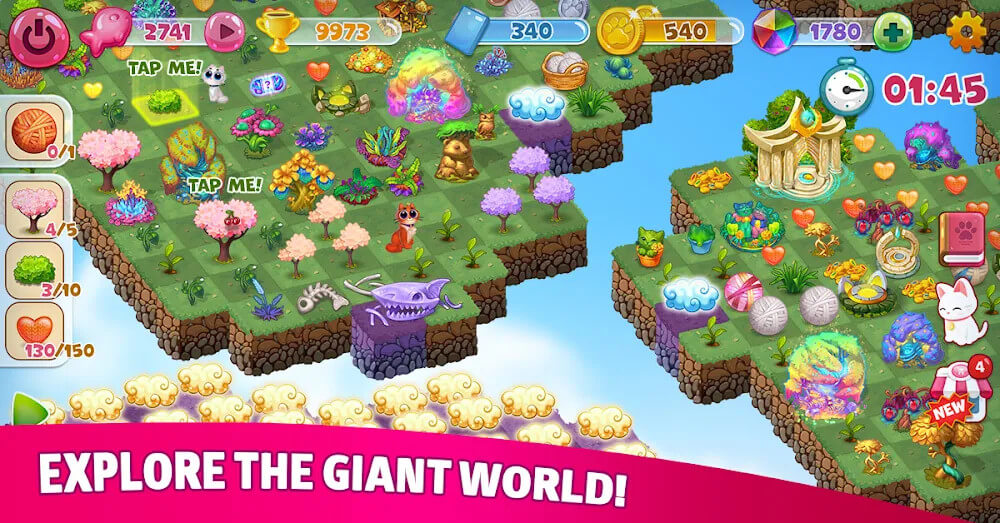 Plant more unique plants to make the garden more romantic. Each cat will have different tasks and decorate the Christmas tree to welcome the warm Christmas season. Upgrade adjacent gardens to create the overall beauty of your garden. Build more exciting buildings and castles in Merge Cats.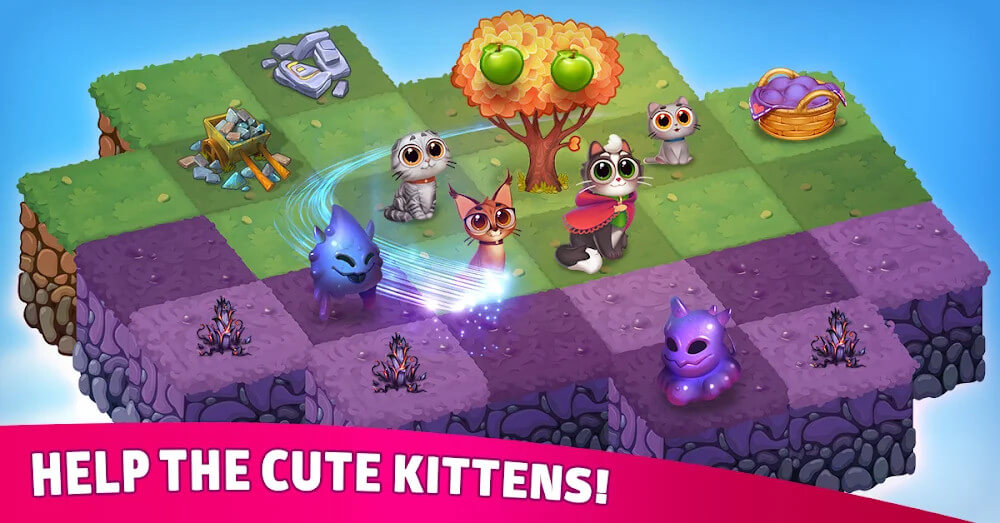 SEARCH CARDS
Each cat will have a powerful card that is lost when the curse is attached. The player's task is to go with that cat to perform all the challenges to get back the powerful card. Surely there will be many difficulties presented in Merge Cats, but you will easily overcome them with determination. After you have found the cards, unite your powers to create a strong group.
Come here. Merge Cats has created a unique impression on players. Funny cats with cute, mischievous features create an attractive garden. Upgrade your garden and make it a paradise.
– Rescue cats cursed from years ago.
– Upgrade that cat both in appearance, personality, and inner mind.
– Build a fantasy cloud garden that includes new elements.
– Merge the power of precious cards in Merge Cats.
– Create a healthy environment right in this garden.