MY LITTLE PONY: Magic Princess is a game with awe-inspiring graphics where players will meet many ponies with cute looks. You will be able to build their town bigger and bigger and collect more resources. At the same time, there will be many Ponies that you can meet and play with them in different minigames. It is a game that any player will love.

BUILD THE TOWN OF THE PONIES
When you step into MY LITTLE PONY: Magic Princess, you will fall in love with the beauty it brings to you. You will see a town inhabited by cute ponies inspired by the original cartoon. At the same time, you will be an observer and someone who will help them build a new city to resist the invasion of darkness and expand their living area. The first Ponies will be able to appear before your eyes.
You will observe the town from a top-down perspective, similar to construction and farming games. Players will see the environment entirely and can place new houses anywhere they want to suit their preferences. At the same time, its gameplay is also straightforward that any player can easily access because there will always be tasks to lead the character and help them learn new things.

WELCOME NEW PONIES
In MY LITTLE PONY: Magic Princess, you will have certain quests that you are forced to complete for various reasons. The first reason is that they will help you understand the mechanics of the game. At the same time, over time, you will see your town gradually becoming a pile as you can welcome many different-looking Ponies to this town. In addition, the second reason is that each mission will give you a certain amount of resources to use.
A rare resource in this game that you can easily find is diamonds. The feature of the diamond is straightforward when it can help you perform tasks in an ultimately easier way. So you will be able to speed up a specific task, and of course, the amount you can get at the beginning of the game will be quite modest, so you need to use them reasonably. You also need diamonds for some Ponies.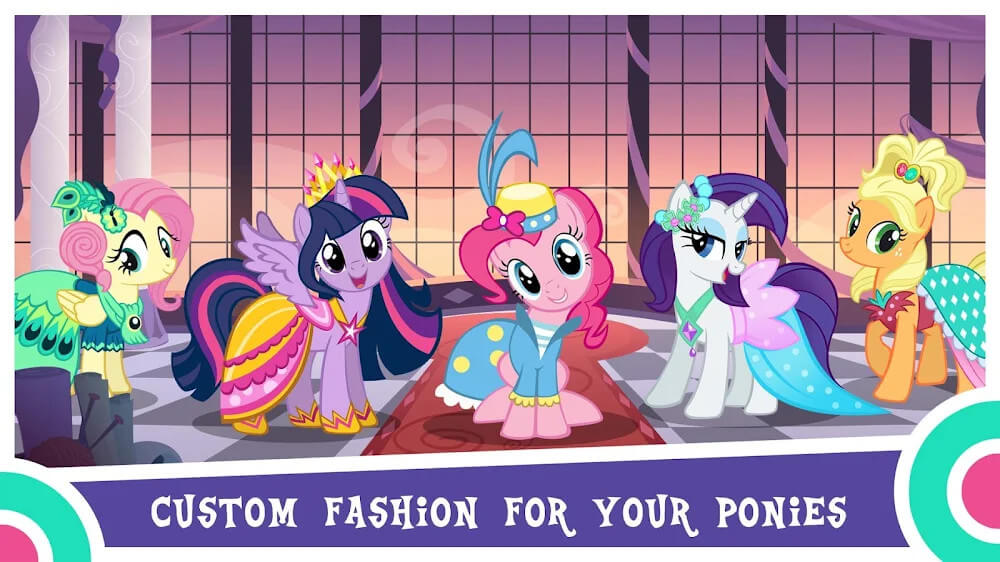 The town building will be elementary in the early stages when you need to follow the quest. You will be able to see what you need to do and where it is located; press the Go button of the task. At the same time, picking up a Pony is associated with the fact that you will build a house for them. After the house is done, you will see a hot air balloon that will bring a Pony. Over time, you will make many new fascinating friends.

EXPAND THE AREA AND PARTICIPATE IN MINIGAMES
Players will be able to see a minimal area of the town in MY LITTLE PONY: Magic Princess, but it won't last long as you can use coins to expand it. At the same time, you can also interact with the Ponies through various minigames. If you enjoy playing with Pony, you can join the Bounce game where you will perform a pass with your friend. You will go through the challenges of the mine while controlling a Minecart in Crystal Mine.