Society is complex, and there is no shortage of dangers all around us, so a helper is what we all need when in an emergency or danger. You will have the opportunity to become a silent and magic-free hero at 911 Emergency Dispatcher. You play the role of the owner of the 911 hotline. You will have to deal with emergencies. Show your sharp processing ability and enjoy the endless fun of this game.
HANDLING DIFFERENT EMERGENCY SITUATIONS
911 Emergency Dispatcher is a special role-playing simulation that will put you in critical situations, and what you need is calm, quickness to make the best choices and handling. You are an employee of the 911 line. You will receive phone calls from the other end of the line. Each situation is different, and they have one thing in common: they are all extremely urgent. You have to deal with situations you encounter as quickly as possible. Otherwise, the worst cases will happen.
A lot of weird situations can happen. On the other end of the line could be a little girl in danger, a scared terrorist, or maybe just pranksters. This is not an easy job, and you must be a sensitive person and handle situations quickly and intelligently to do this difficult job.
WITNESSING AMAZING CAUSES
911 Emergency Dispatcher offers you more than 900 cities globally, and you can choose anyone to work in. There will be unique roads, locations, and infrastructures for each city you choose. Besides, Career mode gives you 6 cities with incredible events. Disasters will occur in cities in this regime, including the earthquake in San Francisco or the massacre bombings in Washington, DC.
You are the one who will solve all the problems and save the lives of the people in danger. You need to have the patience to really choose the right answers. With the ultimate controller, you can experience the feeling of sitting in one place and still being able to help others, even save their lives from danger or give advice and decide on serious disasters that can happen.
CHOOSE HOW TO HANDLING
Most of the 911 Emergency Dispatchers are text calls that pop up on your computer screen. You will chat with the people on the other end of the line and solve their problems. Each reply to your message will have several suggestions available, and your task is to select and touch the answer you want. Remember that your handling will strongly determine the safety of your opponent.
UNLOCK A LOT OF EMERGENCY VEHICLES
After successfully completing a situation, you will unlock a part of a vehicle. Once you've unlocked all parts of a vehicle, that vehicle is yours and used to help with emergencies. Vehicles scale your work and you can help more people. Unlocking one more vehicle means you also have more emergencies. There are 12 types of vehicles including fire trucks, emergency vehicles, and police cars. Collect them as much as you can to solve more difficult cases.
You are a secret and respected hero, all emergency units will help you. Police, nurses, and even firefighters will go and handle dangerous problems for you, you just need to sit still and direct them. Besides, they are also equipped with the most advanced weapons or gadgets. In addition to the vehicles, police will be equipped with bulletproof vests or medical first aid kits that nurses will use for dangerous cases.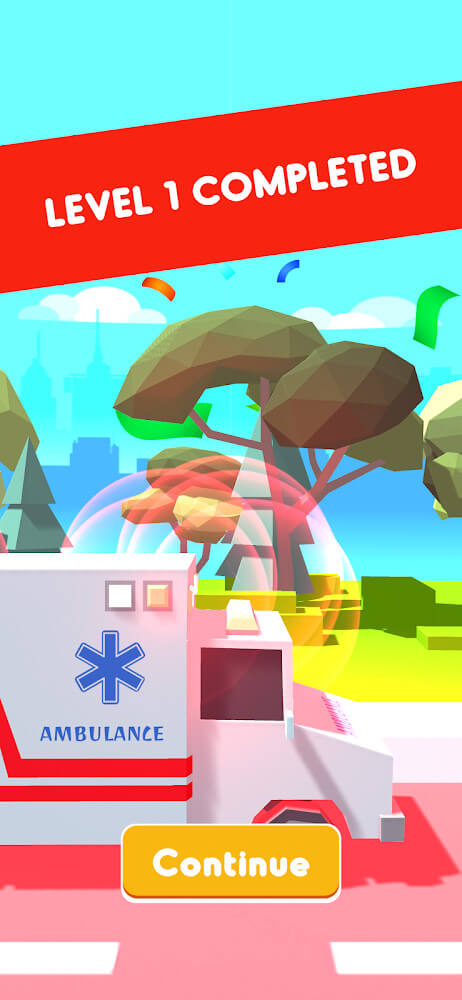 EASY GRAPHICS
The game's graphics are nothing special, but that makes it special. Simple and bright graphics give players a pleasant feeling. The game design is also quite simple, and you just need to lightly tap your finger on the selected card and then wait for a response.
Since its launch, this game has been appreciated for its attractiveness, understandable because of how great it feels to help others, and surely everyone wants to try this good work. 911 Emergency Dispatcher is waiting for you to come and discover all 140 different emergencies. You will be able to save people who are in danger, you will be able to save someone who is being stalked, or you will witness the most terrible disasters in history. Join millions of players and become the ultimate player.