If you are a lover of shooting games with your mighty army, then Blast Waves is a great strategy game for you. You'll have to strategize your every move to create accurate shots. Your only goal is to fight against the enemies and try to survive long in the battles so that you can become a powerful commander of the army.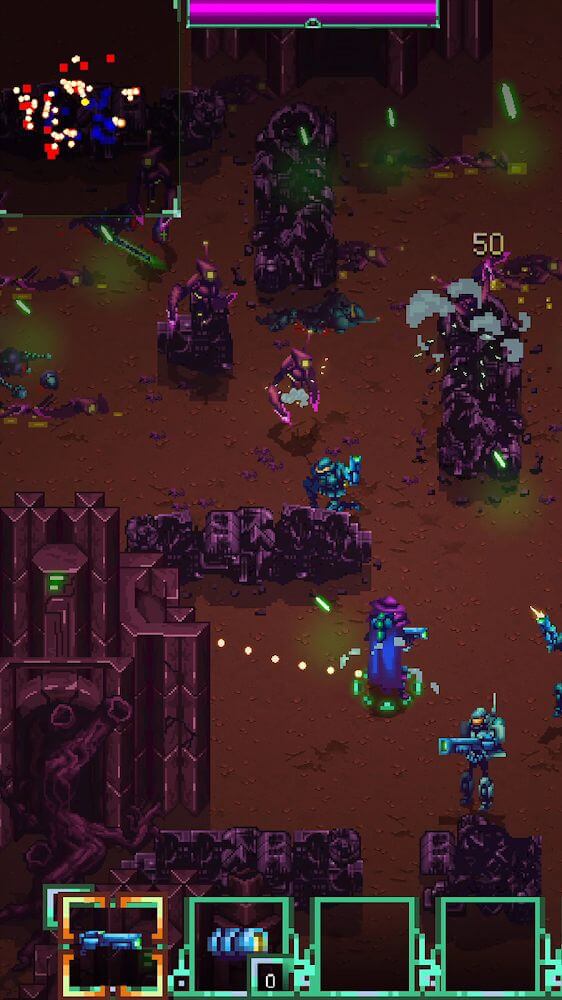 CLASSIC ACTION ROLE-PLAYING GAME
In addition to the classic role-playing gameplay, Blast Waves also delights players with its addictive combat mechanics and unique pixel graphics. You are the leader of the cyborg army and fight in a vast galaxy. The game will bring you exciting experiences, and you can't take your eyes off the phone screen with this new context. It would help if you had intelligent tactics to be able to defeat all enemies and protect the galaxy.
HIGH-PACED GAMEPLAY THAT CAPTURES THE PLAYER'S ATTENTION
The situations in Blast Waves are continuous and intense, requiring you to move constantly and be flexible to be able to shoot all the enemies at once. At the same time, you must use your strategic mind and more than 100 diverse weapons to complete the level as quickly as possible. After winning the levels, you will unlock new items such as weapons, armor, and some necessary equipment for future battles.
The important thing in the game is that you have to be careful and unique in your shooting strategy to create valuable shots. This requires you to observe the battlefield situation well and be able to determine the number of troops to consider the type of combat weapon to use. Because the number of shots and bullets in the game is limited according to the number of games required, you must carefully calculate. Besides, time will pass quickly if you move without shooting, you will miss many opportunities.
DIVERSE GAME MODES FOR PLAYERS TO EXPLORE AND TRY
There are two game modes, including Roguelike survival and Command. Each game mode has its own challenges for players to choose from depending on their abilities. In Roguelike mode, you will accompany the characters from the first battles to the harsh galactic conflicts. After that, you will gradually collect skills and weapons to improve the combat situation. In Command mode, players will do several other jobs besides shooting, such as building, training, and organizing troops, controlling generals on the battlefield to bring troops out of danger.
KEY FEATURES
Battle mode: build a commander character from scratch through many fierce battles.
Control mode: players must overcome survival levels to lead an army against overwhelming enemy forces.
Game modes: Command and Roguelike, players can freely choose according to their own abilities.
100 types of weapons, armor, and gear for players to unlock.
6 unique biomes and extreme environmental challenges to challenge players.