Buriedbornes is an RPG with a classic style from controls, gameplay, content, and systems, presenting old-school fascination with nostalgic graphics. The primary impression from the game is its random and deep system, making every action or element potentially dangerous or positives. Players can also freely build their fighting styles and explore the world in their way in a big fantasy world.
NOSTALGIC OLD-SCHOOL RPG GAMEPLAY
The familiar element of most old-school RPGs is the turn-based combat system with aspects of randomness and scale on each action. That makes Buriedbornes's gameplay more attractive and exciting when players cannot rely on numbers to decide every situation. On top of that, every progression in the game is slow-paced and familiar to create a distinctive and engaging atmosphere in a signature style.
IN-DEPTH AND HARDCORE COMBAT MECHANISM
The combat system in the game relies on many factors to perform actions, including commands, energy consumption, and success rates depending on the type of enemy. It also affects dodge or survival rates and allows players to build weird character builds based on various stats. Some cases will also bring many negative situations to make players angry and depend on their luck to survive or defeat random enemies.
IN-DEPTH CHARACTER DEVELOPMENT
Character development is vital to the player's ability to overcome challenges or perilous dungeons in Buriedbornes. It does not have any default character classes. Instead, it allows building character stats in many directions, and the system will unlock skills that are compatible with all requirements. Over time, characters will gradually unlock new content, including new skills to fight enemies in desperate situations.
EXTREME DIFFICULTY FOR HARDCORE LOVER
The outstanding feature throughout the gameplay is the hardcore element on each content or concept to create a fierce journey for players. In addition, equipment systems or stats also significantly impact combat, including skill activation, misses, and dodges rates. Not only that, but the game also uses a text-driven style to convey every progress of the battle with a sense of familiarity and nostalgia with classic RPGs.
LEARN NEW SPELLS OR COLLECT NEW ITEMS
The fascinating thing about character development is that players can collect more spells to use widely in battles. Buriedbornes has a complex and chaotic system of equipment or spells, so players can customize their fighting style continuously according to the types of items they receive along the way. In addition, additional equipment also requires compatible stats to be equipped, demonstrating the madness of dropping items that are not suitable for the player.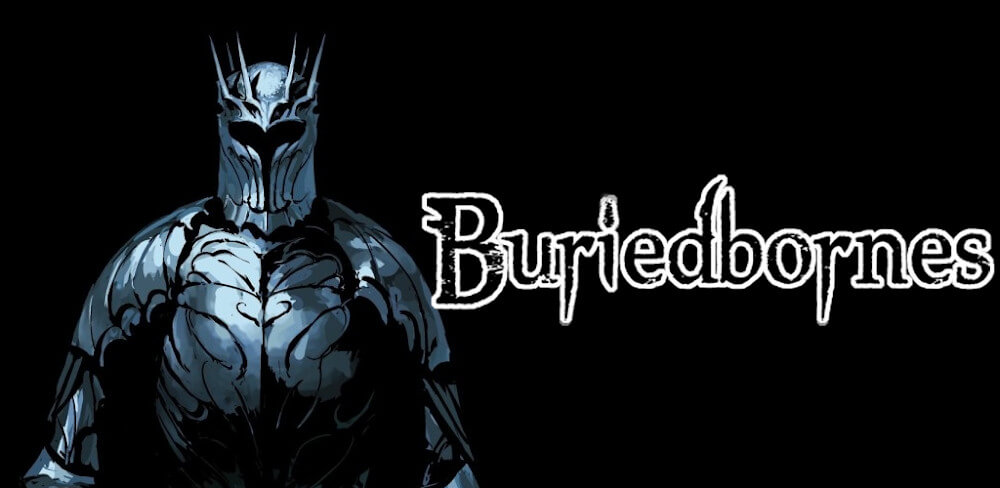 INTENSE AND NIGHTMARISH DUNGEONS
Depending on the game mode that the player previously selected, the dungeons will have different levels of spaciousness. They also automatically change structure randomly, and each room in the dungeon always contains dangerous enemies or complex traps. On top of that, the rewards for completing every dungeon are always generous, and players can equip them for other trips, deeper into darker and more dangerous dungeons.
Buriedbornes is an excellent choice for RPG enthusiasts but with serious difficulty and a classic experience. Despite its simplicity in the transmission of information or plot, each action of the player contains a lot of emotion, making them consider every factor before doing something, even walking into new rooms.