GT Racing 2 is a racing game that brings authentic experiences to players through many different modes and perspectives. You will take the time to experience the control features and master them as they will come in handy in many races. At the same time, you also find the fun in each mode to experience them with your friends. Indeed, you are looking forward to experiencing cars from famous manufacturers.

ATTRACTIVE REALISTIC RACING EXPERIENCE
Players will participate in the completely impressive racing gameplay of GT Racing 2, where players will show their driving skills against other opponents when achieving high positions in the game. At the same time, you will experience a variety of unique racing environments that any player will love and be curious about, not knowing what can happen. In addition, the game will also help you change the experience by simply changing the viewing angle.
Besides the third-person perspective, the player will see the car from a different perspective. Some views players can find include a driver's view or a vehicle's front view. From there, each angle presents its challenges, and you also find detail in the car's interior. So you will be able to choose the viewing angle that you feel is right for the best experience and achieve high results at each level.

WIN MANY DIFFERENT RACES
In GT Racing 2, players will find many exciting and completely competitive modes. When starting a specific mode, players will be introduced to its mechanics to get the relevant information to follow and complete the screen in the best way. One factor that you will need to pay attention to during the experience of this game is that it focuses on controlling the car, and there will be no supporting features such as nitro or high slopes for you to overcome the opponent.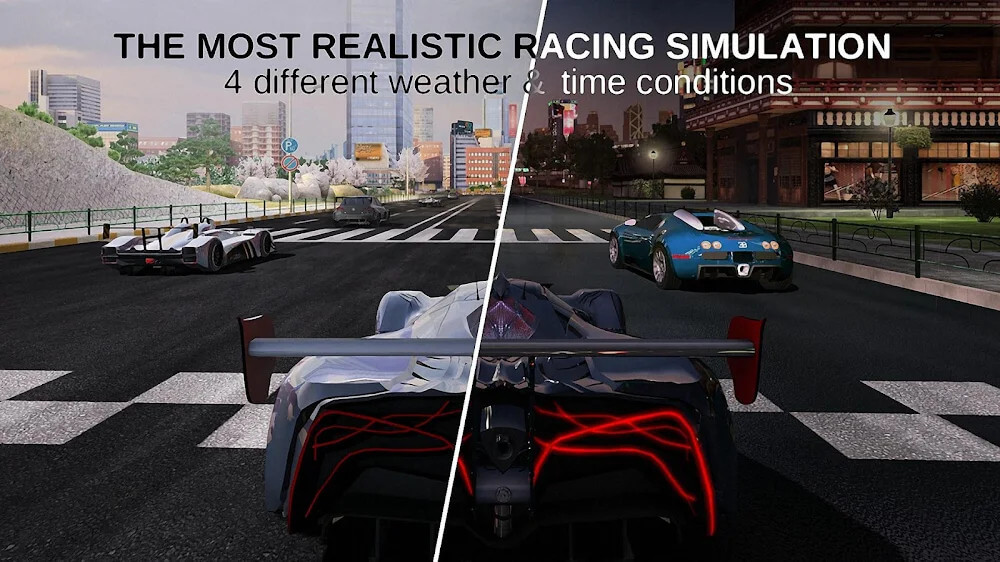 With this feature, you will need to handle the bends yourself correctly to not slow down in each collision. Each turn can be viewed as an opportunity for you to surpass your opponent and try to complete the level in the best way. Each race will have many turns, and you will be able to change your position if you do not make any mistakes while driving. In addition, you also see your distance with the opponent to find ways to approach and overcome them.
It is recommended that you experience with your friends in this game because it offers a gratifying experience. Each player will have an exciting time with their friends, and especially, the game modes completely meet your needs. For example, besides Classic mode, there is also Knockouts mode. It requires each player to be placed last to be eliminated, and the level continues until the last car remains.

VARIOUS VEHICLES FOR YOU TO EXPERIENCE
When it comes to a racing game like GT Racing 2, you will be interested in the types of cars you can experience. You can find a wide range of licensed vehicles from many world-famous manufacturers. Also, through the process you complete the race, you will be able to earn various resources to complete the upgrade. You will buy upgraded elements and a mechanic to be able to apply them to you.