Hyper Heroes is an RPG with marble-like mechanics to bring everyone new gameplay filled with excitement, amusement, and humor in all battles. It also comes with many complex systems to develop over time and even continuously expands everything to create a high-quality game. Not stopping there, the PvP wars were the culmination of the chaos as 100 players were at each other throats while raiding the lands or hefty rewards on crucial outposts.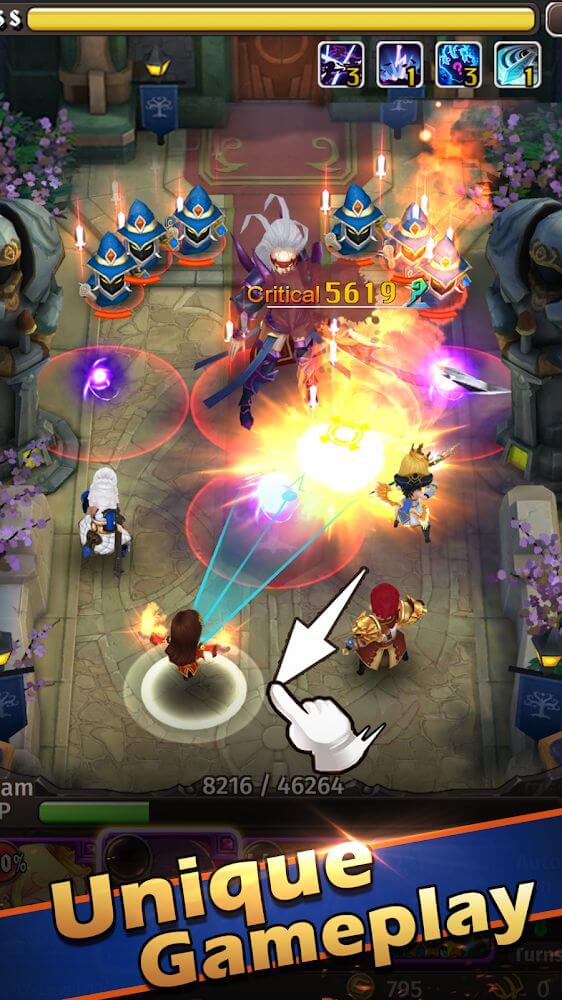 A UNIQUE GAMEPLAY WITH ENDLESS DEVELOPMENT IN REAL-TIME
The marble-like gameplay inside Hyper Heroes is one of the exciting breakthroughs of the RPG genre as it introduces a new combat mechanic. Meanwhile, players must always prioritize the essentials and take advantage of each character's performance for the most positive and effective combat results. More content will also gradually expand based on the player's progress, making the marble mechanics more special and rich to diversify the gameplay to new heights.
UTILIZE EVERY CHARACTER TRAIT OUTSTANDING TO WIN THE BATTLES
Players will always participate in battles with teams of five, and their mission is to destroy all enemies in the level to continue with more difficult battles. They also have to know how to effectively use each character's ability, such as attacking, using skills, and healing allied targets. Depending on the arrangement of each squad, players will always have appropriate plans to destroy monsters creatively and effectively, even when facing many targets at once.
DEVISE THE MOST PLAUSIBLE ADVANCE SQUAD TO COMBAT THE ENEMIES
The most important thing to win in any war is to create reasonable teams through the character system of Hyper Heroes. The choice of five people is a matter of careful consideration, as the system does not limit any character classes, so players can create any ridiculous squad to fight. In addition, if the player binds the effects of characters before going into battle, their effects will activate continuously and give many advantages over slaying the foe.
DIVERSE BIOME WITH ENDLESS WORLD EXPANSION OVER TIME
Besides the complexity of choosing the right characters, the game features a large world with various environments that facilitate adventure. Because of that, the monsters will be more abundant and at the same time create obstacles to make players have to be more flexible or creative when making a move. The game will regularly expand the world with lots of new content, including introducing new bosses or monsters to stimulate everyone's experience in many cases.
PARTICIPATE IN THE MOST GRUESOME GUILD WARS
Guild Wars are always the culmination of excitement, refreshment, and suspense as each wave has a maximum of 100 participants with hundreds of units. Hyper Heroes also complicates things by having players play against each other once instead of in turns, so Guild Wars are like tournaments to see who can last. The systems will also balance these battles and create a wide variety so that every Guild Wars takes place in a vibrant atmosphere.
CO-OP WITH FRIENDS THROUGH THE DANGEROUS DUNGEONS
The best part is that players can accompany their friends through cooperative battles, but only up to four people at a time, and control a certain character. Although there is a limit in the number of players, its entertainment in each dungeon is always abundant so that everyone has a true MMORPG feeling. Above all, the synergies between characters are always important and necessary, and everyone can take advantage of the countless possibilities in the gameplay to achieve victory.
Hyper Heroes introduces marble-like gameplay mechanics to give everyone new experiences and even creates many online activities. Besides, the variety of characters is also interesting content for everyone to create the most refreshing moments when progressing with various battles. In contrast, the Guild Wars are the most impressive moments with the wide participation of many players and the vast scale of war across many lands.
KEY FEATURES
Fascinating marble-like gameplay combined with RPG elements offers a top-notch experience while battling everything with unique concepts.
Create a 5-person party with the craziest ideas or powerful links to vanquish every monster on the path with excellent combinations.
An infinite, expansive world filled with tremendous monster threats and rewards to incite players to keep fighting through chaotic biomes or dungeons.
Grand and intoxicating Guild Wars with 100 participants packed with the intense and ravaging atmosphere while battling the living soul out of everyone.
Co-op with friends through the dangerous dungeons while forming typical and hilarious parties for all-purpose dungeon crawling.