LUNA M is an MMORPG title where players enter a beautiful world whose gameplay is entirely accessible and multi-racial exists. Players are free to choose their desired class and appearance to start the game. At the same time, each class has its characteristics, and you will be able to unleash its power as you improve your skills and own weapons. So intense battles are waiting for players to join and overcome.

ENTER THE IMPRESSIVE WORLD OF MMORPG
When you experience LUNA M, you will certainly not be able to ignore the application's interface. It possesses a beauty that is suitable for many different players. You will be adventure journey in a world with the forces of good and evil. At the same time, you can meet other players and ally with them in some brutal boss battles or become enemies in some PVP levels. So this is an experience you can't afford to miss.
You will easily control your character in a 2.5D world with familiar controls. An interesting point in the experience of this application is that users can set up automatic combat in some cases. It is perfectly suitable for those who experience the game and continuously complete tasks in different places. At the same time, there will also be an auto-orientation feature if you receive the quest, and the character will automatically go to the area of the task.

DIVERSITY IN CLASSES FOR PLAYERS TO CHOOSE FROM
Besides the graphics of LUNA M, users will also find the starting classes that they can freely choose during the experience. Some classes can be mentioned, such as Archer, Wizard, Warrior, and other exciting classes. In particular, in the latest version of this game, players will find a new class called Sword Master, a character who uses dual swords. You will be able to find ways to use the character on the internet, and this is a class that is currently appreciated for its strength.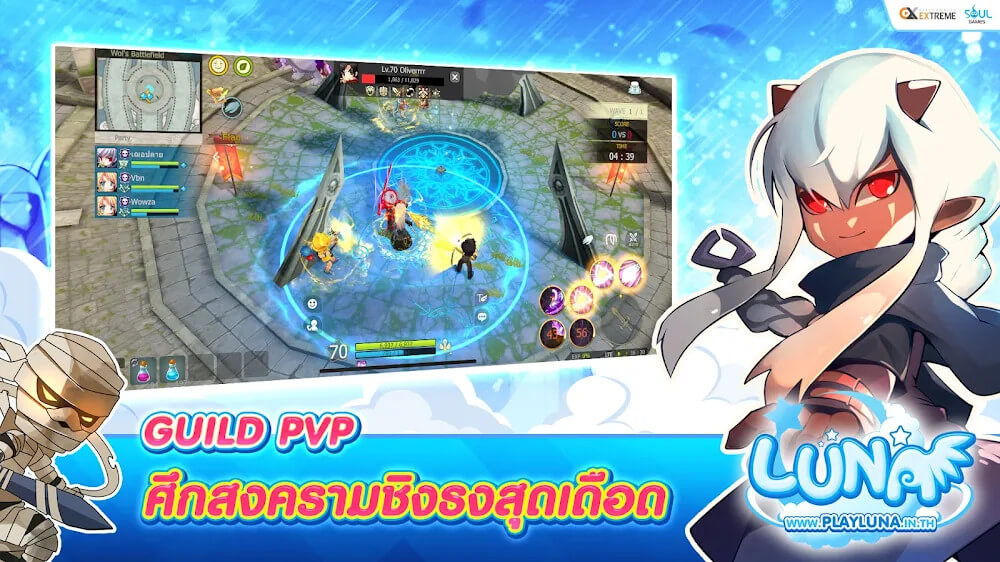 After completing the character selection step, do not rush to select the complete button because the right side of the screen is a series of costumes that you can try to use for the character. At the same time, you will go to the tutorial level, and it will help you master the use of controls and attacks. You will receive the first quest shortly after and let the character go where the quest requires. There, there will be a plant to collect or an enemy to take down.

RAISE THE POWER TO PARTICIPATE IN THE GAME MODES
Once you have completed some LUNA M quests, the experience points will increase and help you reach a new level. From there, the character's strength will also gradually increase over time, and you will be able to increase and unlock new skills. Skill tree system and passive skills will appear before your eyes. You'll find ways to upgrade skills to optimize your character's strength, and you'll need to max out the first skill to unlock the next one.
Along with the character's skill and level, the user will search for powerful equipment by defeating enemies and receiving related materials. Once you have reached a power threshold, new types of monsters will appear before your eyes. You can fight with other characters against a World Boss with many health or Guild War battles with other players.