Social Dev Story will bring you an experience like never before, where you are no longer just a gamer but a professional game production studio manager. This is a very creative simulation game, giving you a deeper perspective on the game industry. This app is not just a game anymore, and it's also a chance for you to test your suitability to become a game studio manager.
START WITH THE SMALL THINGS
Starting Social Dev Story, you will be provided with a certain amount of capital, but it is quite meager. Make good use of the money you have, and start your first projects. At this point, your team will only have four people, but there is a lot of work to be done. So you need to consider and choose the right position for them, depending on the direction you want to develop the studio, such as game scriptwriter, music maker, graphic artist, coder, voice writer, etc…Then start spreading your company's products to the market.
EXPAND STUDIO
The first products have been released, and now your studio needs to continue replicating its model and make it known to more people. Please recruit more staff to serve the expansion of the studio. The necessary positions now can be mentioned as a data analyst, market expert, filmmaker, hacker,… Along with that, let's continue to improve product quality and give ideas new ideas for their products.
EXPECT THE WORLD
Despite being quite successful in the studio world, you still can't stop your ambition. Continue to expand and dominate your field. However, now your studio will have to face big companies with economic capabilities as well as significantly top-quality products. Keep up with the trends of the times to come up with unique products, or more prominent companies will swallow you up.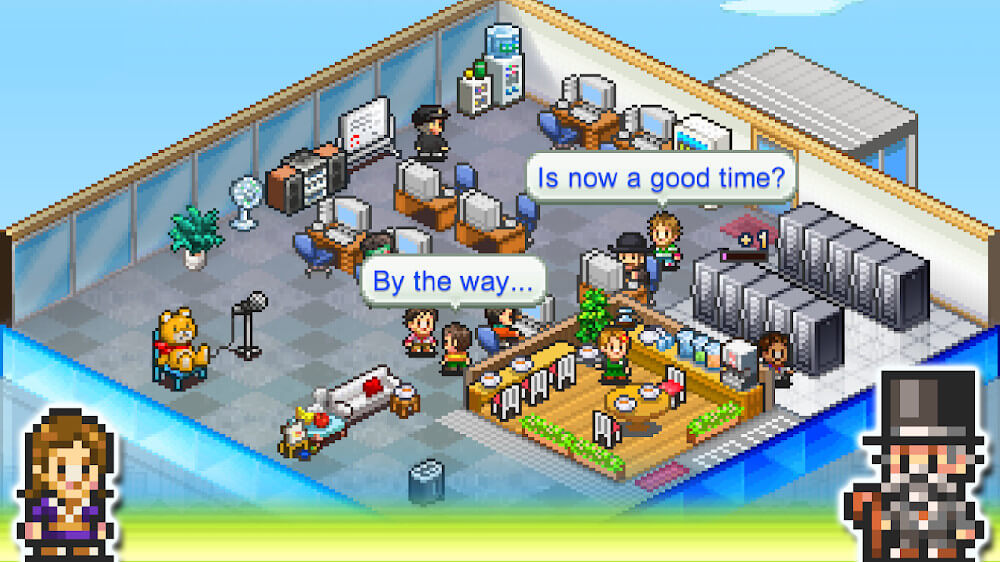 COMPACT PROCEDURES BUT SIMPLE HOW TO PLAY
Although expanding the studio is quite time-consuming and brainy, creating products or running something in Social Dev Story is quite easy. You just need to choose and follow the recommendations from the staff to create the product; sometimes, you also need more references from investors or customer feedback. The more senior your employees, the better the opinions you give, and the more popular your products will be.