A journey that determines your destiny is delivered to the player in an awe-inspiring way in Star Wars: KOTOR. Players will spend time learning the stories and traveling to various places in the galaxy. At the same time, there are always dangers that you will need to overcome and guide the character to the power you desire. Your performance in the game is also a determining factor in your path later.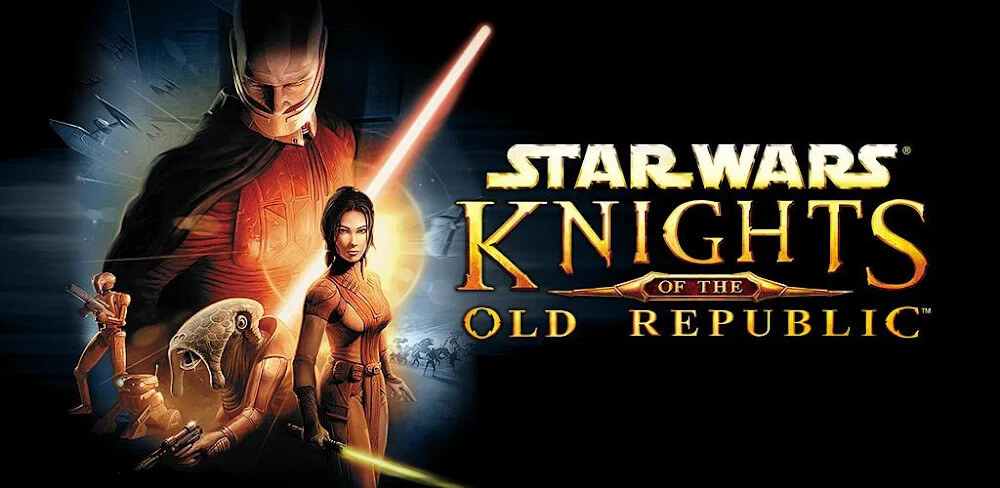 WAKING UP ON THE REPUBLIC'S SHIP
The story of Star Wars: KOTOR takes place 4,000 years before the founding of the Galactic Empire, and there, an event occurs that affects the safety of the Republic. Darth Malak has brought freedom to a Sith warrior with a plot to stand up against the Republic. Because of this liberation, many Jedi went missing or were killed by the cruelty of the Sith and Malak. Others already have the loyalty idea to these dictators, and all are waiting for a miracle that will appear.
The character you created will appear on a Republic ship, and this is not a safe place for the player to stay long. Your character is awakened when the ship has solid vibrations and then, you learn that this ship is under attack, and you must prepare to escape this ship. But a strange thing about this character is that he/she doesn't remember his past, and during his universe adventure, all mysteries will be solved.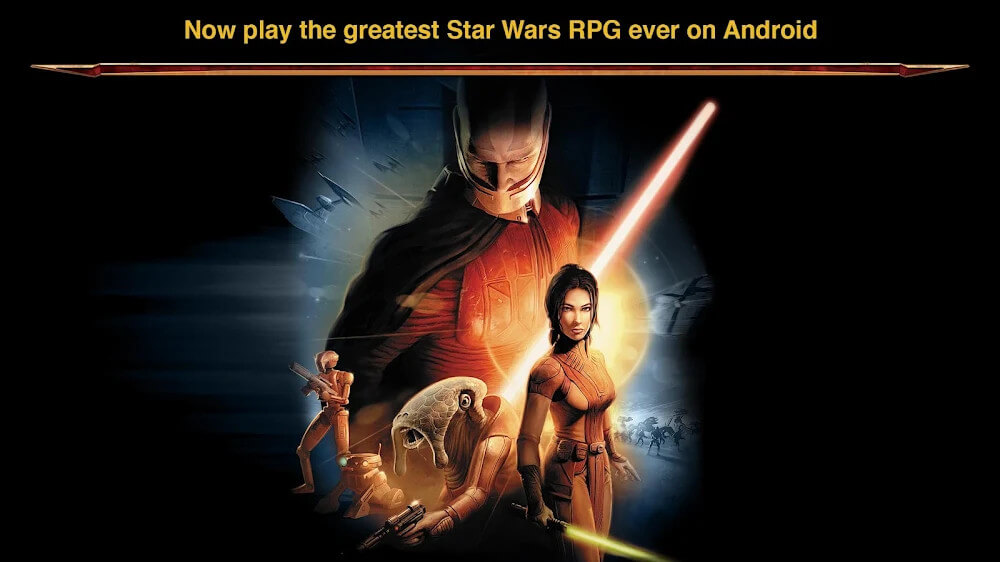 CONFRONT DIFFERENT ENEMIES
The first experience that you can find is to create a character to your liking. There will be many character classes that you can choose from, and once selected, the player will see simple sentences and lead you to the beginning of Star Wars: KOTOR. When you wake up, you will see a character named Trask come and know what is going on on the island. So right after that, he will explain to you certain elements to start the game.
In this game, you can touch particular objects, and there will be signs so you can interact with them. The first element that you can interact with is a box that contains equipment and even weapons. So you will choose the type of weapon that suits you between melee and ranged. After that, you will begin to engage in the first battles with the enemies that are attacking the ship and collect the necessary items from them.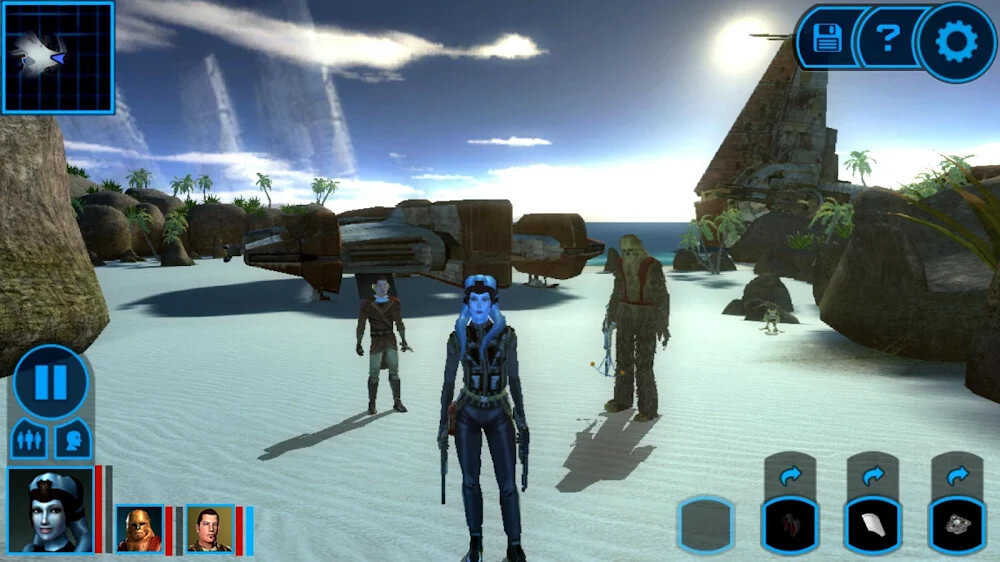 The combat mechanism of this game is quite extraordinary and accessible to players after they finish reading a description of it. At the top of the screen, you will see a red circle, and its function is to help you determine the target that you can attack. Once successfully identified, all your subsequent attacks will focus on that target. You will press that colored button at the bottom of the screen to launch the corresponding attacks.
COLLECT IN-GAME ITEMS
After you have defeated a target, you will continue to press the target button to re-target a nearby target and continue attacking. This stage is repeated many times until no more enemies appear in front of you. After defeating them, you should get close to them to check some of the elements, and most of them are items dropped from the war. At the same time, it can be said that these are essential things that you should not ignore because you will have a long journey ahead.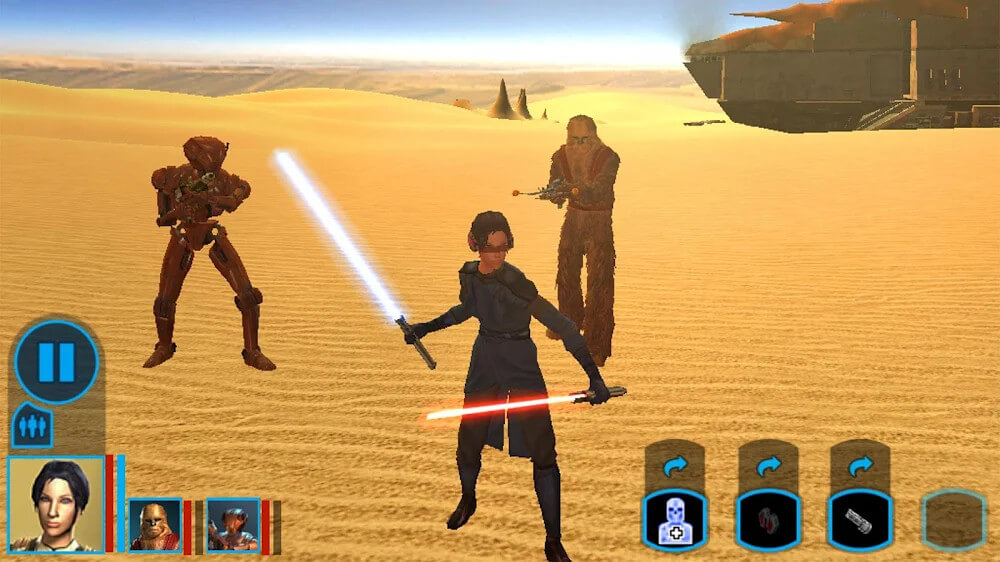 As mentioned above, you will interact with the items you feel you need and collect materials or weapons to store in the inventory. Materials are used in different ways, and one of them can be said to help characters upgrade the stats for weapons and equipment. When you go to the relevant area to upgrade, you will see four types of items to upgrade and provide the related material for your weapon.
ENHANCE CHARACTER'S STRENGTH
During the gameplay, you will spend time overcoming challenges and performing different tasks. Thanks to that, you can get skill points when you reach a new level, and you will know what they are used for. Specifically, you will see the character's skills and choose the skills that you feel are optimal and often used in the game to upgrade. That makes perfect sense since it's hard to get these skill points.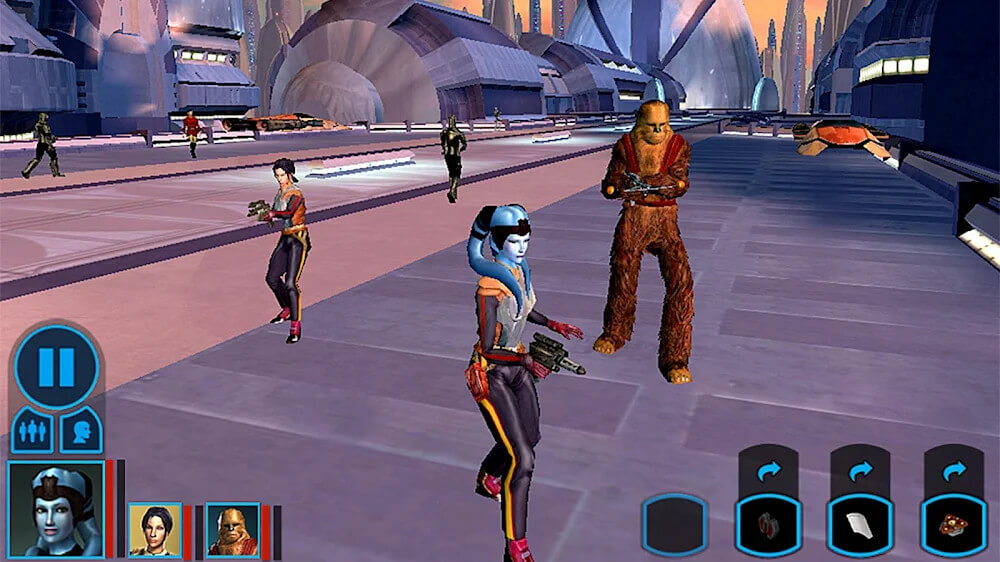 When it comes to the Star Wars game series, we cannot ignore the essential factor that is Force strength, and it works similar to special skills. But one thing that characterizes this series of games is which side of this power you choose. Specifically, you will stand between good and evil, and through your actions in the game, you will gradually go to one side. At the same time, each side will have a feature about changing the appearance.