Towerlands – Tower Defense Strategy is a fascinating game of the unique tactical defense genre. Players will enjoy an exciting storyline with a new style of play. You will build your kingdom and develop an army to fight the enemies who plot to invade your land. You will play as a professional leader with his smart strategy to stop all attacks. The lives of the people in the Kingdom will depend on your hands, so you must upgrade everything to be able to conquer all problematic challenges.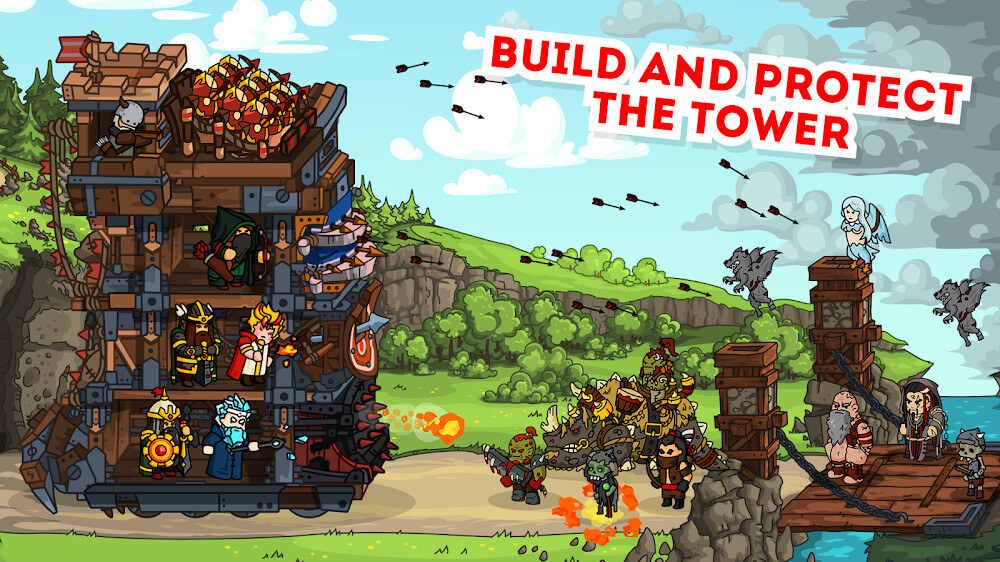 DEVELOP AND BUILD YOUR TOWN TO PROTECT THE CASTLE
This simple game adopts extremely idle tower-building and defense mechanics, providing players with engaging stories. Players will experience many new elements and create their own defense strategies to overcome all challenges. At each level, the player's task is to build a cell tower and develop it to protect your castle from raiders.
Your tower will have many types with different effects, including support, attack, and defense. Each tower has its own characteristics, and all help you prevent the enemy's attack. When combining those elements, your tower will become stronger and resist all enemy armies.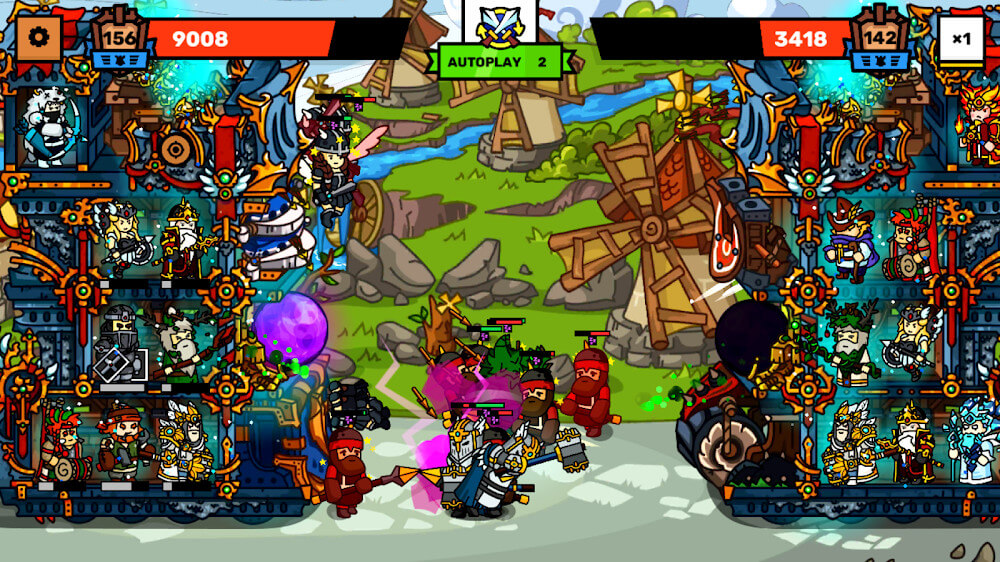 JOURNEY TO CONQUER EVERY CHALLENGE ONLY
Your campaign will be endlessly expanded with an increasing number of enemies and different types of enemies that you will encounter along the way. What attracts players in Towerlands is the diverse environments and battle zones, each with its own unique monster species. In addition to the main campaigns, the game also adds many special challenges with great difficulty, giving players exciting battles. Besides, players also have to build their army to become more vital to be able to face any battle confidently.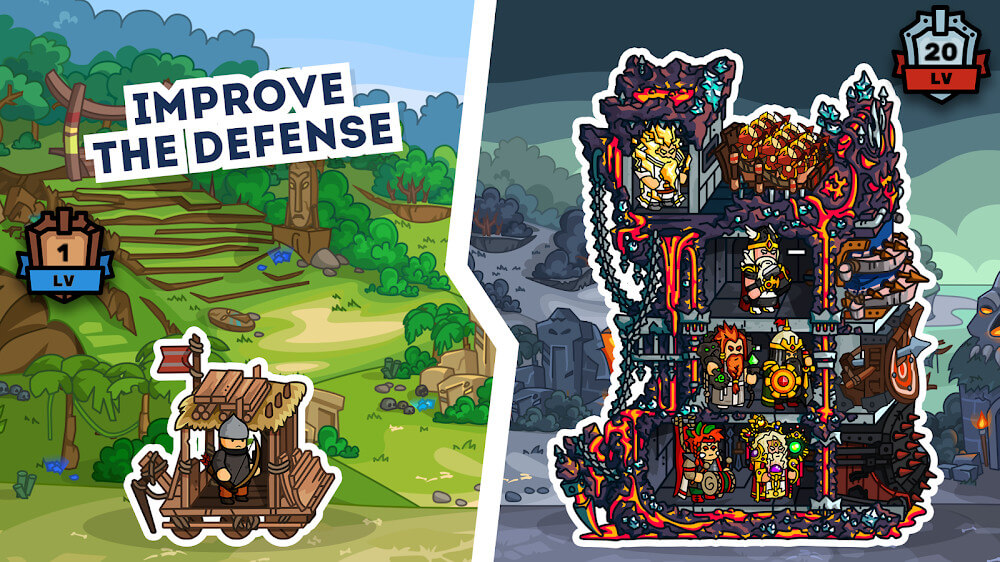 UPGRADE AND BUY ITEMS IN THE STORE
Players are allowed to upgrade indefinitely, but battle units can only reach a certain maximum level. Players will have many options for their own attack or defense classes to build the tower. Each part of the tower will have its own features, so players can upgrade each part, such as power-ups to improve the tower's DPS. In particular, players can change the tower's structure and unlock many other new features.
UPGRADE YOUR HERO SYSTEM
In order to defeat all enemies, heroes need to have special powers and abilities. The hero classes include archers, knights, and mages. In it, each type of hero will have different variations to equip the tower. In addition, each hero has their own fighting skills, so players should make full use of that ability to defeat the enemy. The appearance of the heroes also changes gradually with each level, making players more impressed with Towerlands.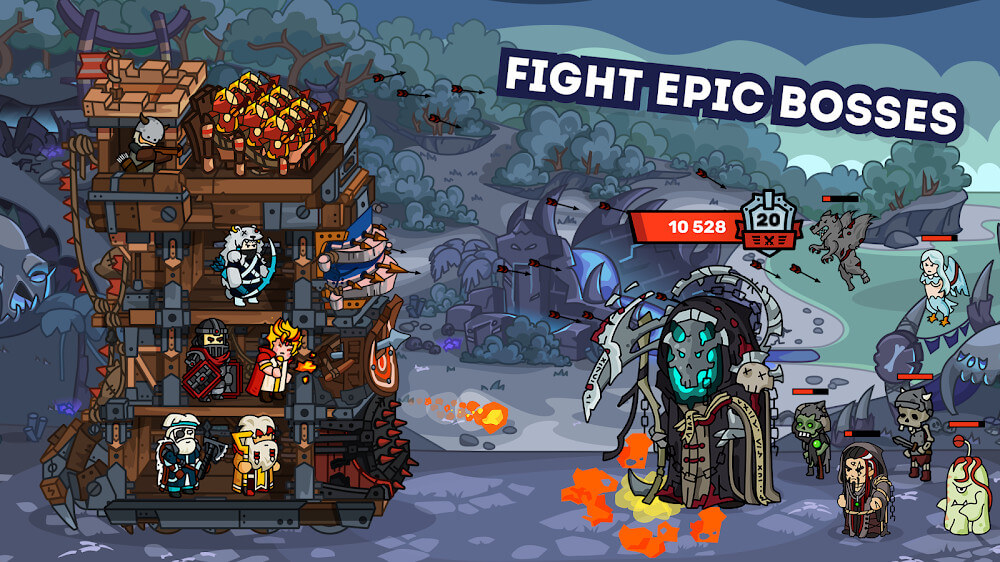 UPGRADE YOUR SKILLS
The tower is an independent system in the game, and the player will support the tower with their inherent skills. First of all, the skill to destroy many enemies at once, the player can use this skill during combat, but the cooldown of this skill will belong. In addition, players are also allowed to upgrade skills, strength, and combat effects to create their own advantages.
You will build a small town on the land you control by upgrading the training system. Once the features are unlocked, the player can develop their castle and upgrade the hero's strength.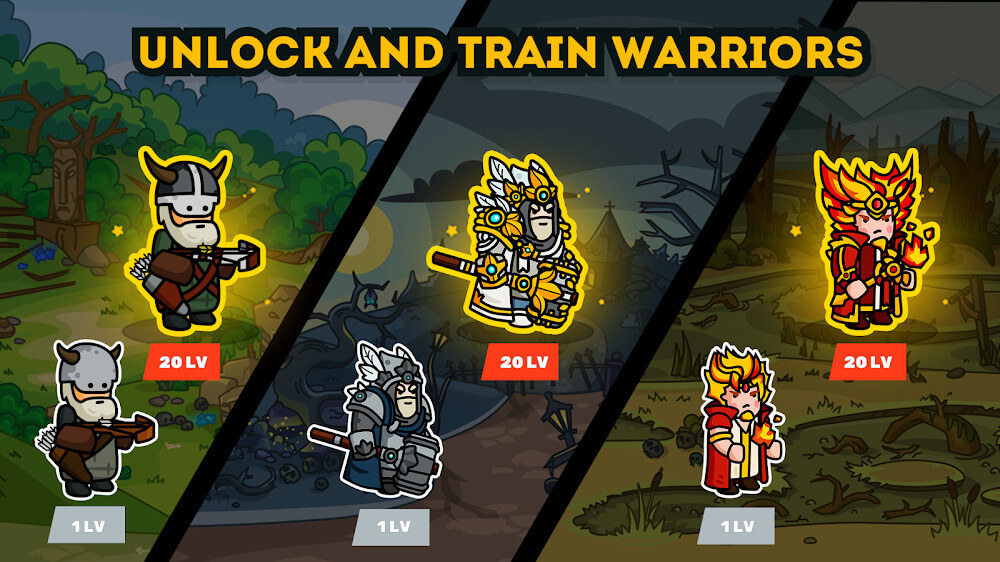 KEY FEATURES
8000 different types of enemies that players will face
Discover 50 combat units and train them
Unique strategic map.
4 races of your enemies, including Orcs, Undead, Bandits, Elves.
Leaderboards for players and clans.