Trucker Real Wheels – Simulator is a simulation game where players will have the task of delivering goods in an utterly animated way in a 2D environment. Every environment has challenges that you will need to overcome. At the same time, a system of operations is manually done so you will be able to show off your skills fully. In addition, a system of quests can be unlocked and is waiting for you to experience.

TRUE EXPERIENCE OF SHIPPING
In Trucker Real Wheels, players will find exciting gameplay to drive their cars and transport goods to a specific area. You will move inside a 2D environment with rich and detailed control features. So you'll have to take control of your car entirely manually and handle the problems on your own when going through challenging slopes.
The element that creates the challenge that players will experience in this game does not come from going through a road with many vehicles but will be terrain with various heights. Everything will be straightforward to handle if you don't carry any extra cargo. Specifically, you will need to receive a certain amount of goods and then transport them to the specified place. Along the way, you can easily drop an item and cause the required weight to fall with carelessness.

TRANSPORT THE GOODS CAREFULLY
The work you need to do in Trucker Real Wheels is entirely understandable that any player will be able to access but will take the time to master it. The first job you need to do is go through some tutorial levels. Specifically, your first vehicle is a car with a trailer. You should be able to accomplish what these quests require. Once you complete these missions, you will be able to start delivering your first shipments.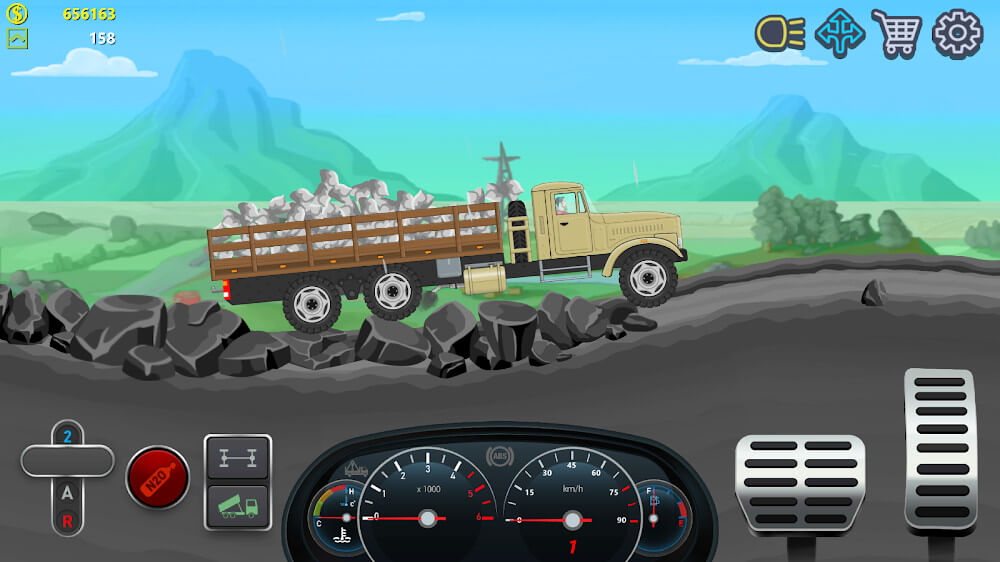 The delivery process is divided into two stages, that is, you will bring your vehicle to the destination and receive the required tonnage. This request you can see before starting the game or at the top of the screen. At the same time, when you reach the receiving area, you will switch to controlling the crane to load the items brought out from the factory onto your vehicle. The control method is quite simple but also requires skill from the player.
You will not be able to place the items you receive indiscriminately on the back of your vehicle. Depending on the characteristics of your trailer part, you will try to place what you receive in an informative way so that they do not fall out. Once you've made sure everything's done, you'll begin to bring it to the required area by traversing various terrains of varying elevations. Sometimes you will be able to deliver to a factory.

DIVERSE MISSION SYSTEM
When you experience Trucker Real Wheels, you will certainly not be able to ignore what this game brings to you. Specifically, you will see a system of quests appear that you will gradually unlock and complete. Of course, you won't just drive a car forever, but you'll experience cars with different sizes and cargo sections. So indeed, you will not be able to ignore the fun and challenge that these missions bring.