Home Design Makeover Mod Apk is a game where players will travel to different areas and get new renovation projects. Each area offers exciting experiences for players, and there are many things that you will need to take care of. At the same time, besides the improved gameplay, you also need to have some money to open new items, and this money is wholly found from match-three levels. So this is gameplay that you won't be able to miss.

DREAM OF BECOMING A DESIGNER
In the Home Design Makeover, players will be transformed into a character who dreams of becoming a designer and will receive many renovation projects in different rooms in the house. So from there, you will make them different through various remodels. You will not change the overall but will change each item in that area that contributes to helping you feel loved when experiencing this game and trying to achieve the same goal as in the blueprint.
You will not do these tasks alone but will be accompanied by two people, Troy and Julia. During the game, you will see information related to customers, locations, and conversations between characters. Then you will see a room or area that has been built, but its beauty is entirely monotonous. You will see editing icons that correspond to an object that you need to change.

CHANGE OBJECTS AS YOUR WISH
In the blueprint that the characters give you, you will see that the Home Design Makeover room space will be filled with many furniture, but the blueprint will only be blue and white. So that's why players will need to complete the renovation. The method is straightforward when you drag the edit icon towards the specified position to change the corresponding object. Each item will cost a certain amount of money, and there will be many options corresponding to different designs for you to choose from.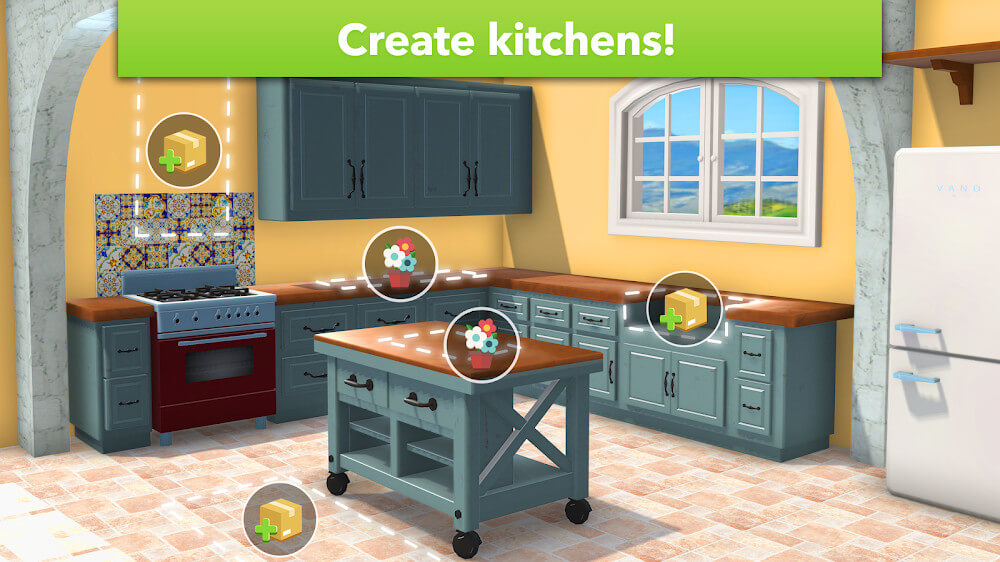 You need to pay attention to one point that when you drag the icon to the specified position, the amount will be visible. So you need to have money to do the renovation, and all the money is earned from the match-three game. Its rules are straightforward and have been associated with many people's childhood when you move an element to form a match with more than three. From there, you will try to complete the level with the requirements and a certain number of passes.
Given these requirements, match-three levels are completely accessible but will consume players' time getting them to solve in-game puzzles. But there will always be unique elements that you can use to assist you. These elements can help you cause explosions over a specific range, so you need to match more than three elements. It is always simple gameplay but attracts the love of many people.

MANY CHALLENGES THAT YOU WILL OVERCOME
The first character of Home Design Makeover you will meet is Rachel, and you will try to fix her room in San Francisco. You won't need to waste time in the migration process once you've accepted her request. At the same time, the areas that you will be renovating will also change to bring new and exciting experiences to players. In addition, there will always be many elements that you will need to change for each region and participate in many match-three levels.