POCO Launcher 2.0 is a launcher that gives the device a wholly new and beautiful interface that users can customize by themselves. Usage is straightforward when users can quickly learn and adjust some features in the application. Also, when you find new icon packs, you can certainly use this app to apply them to your device. So a unique experience and functionality are waiting for you to discover.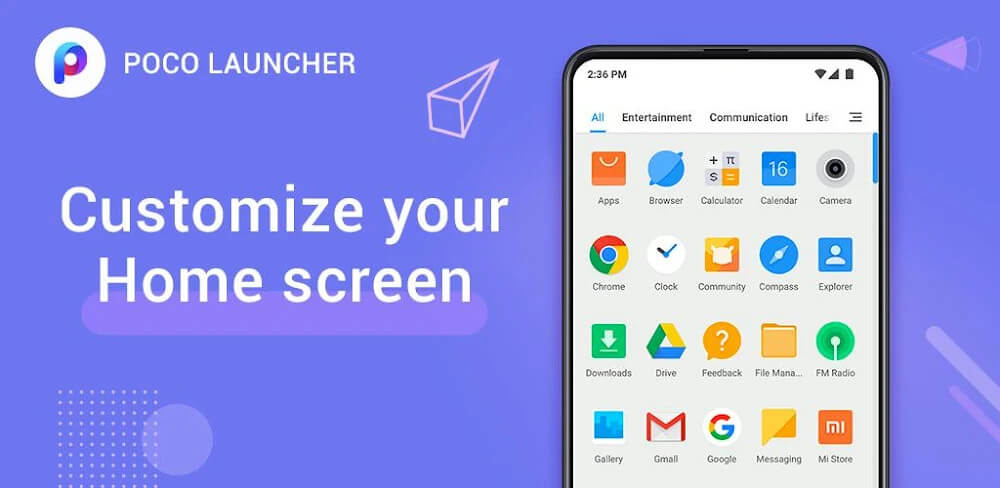 EXPERIENCE EXCITING NEW FEATURES
When you experience the new version of POCO Launcher 2.0, you will find helpful features and suit the needs of many people and the increased stability of the application. The first feature that we should mention is that the application has support for Android Q. So gradually, devices running this operating system no longer have difficulty using this application to customize the interface. In addition, you can also adjust the appearance of the notification bar if you are using an Android 8.0 or higher device.
In addition to supporting more generations of operating systems and different types of smartphones, the application also has some other exciting features that you cannot ignore. You can experience the double-tap feature to turn off the screen. This feature does not default from the start, and you will need to go into the application's settings to adjust it along with other components also found. In addition, for the lock screen feature, there are now icons for you to use.
THE APPLICATION HELPS YOU TO CHANGE THE APPEARANCE OF YOUR DEVICE
When you experience POCO Launcher 2.0, you will be utterly impressed with what it brings. The most common feature that launchers can possess is giving you a new experience when changing the interface of the device you are using. So, when you open the application, you will be recommended a wallpaper suitable for the device to use. Also, once you start using the apps, you'll be amazed at how their organization has changed.
The second remarkable feature that you can't ignore is the reordering of the apps you own. Their location remains unchanged, but the interface has appeared with additional items to organize applications and search. Now you can easily find the apps you want to use among the many apps you have installed. In addition, depending on the purpose, the applications will be sorted by definition and into different categories that you can find with just a swipe.
Besides the exciting feature above, adjusting to what you want is always a feature that any user will like. They will make some settings to optimize what appears on the device's interface and enable some new features. So when you open the settings, you can find features like background, icon pack type, layout, hide app, etc. In addition, the hiding-application feature is also exciting that you will not be able to ignore.
APPLY THIRD-PARTY ICON PACKS
After a period of use, users will undoubtedly find many icon packs of other applications and, of course, do not rush to uninstall POCO Launcher 2.0. You must have a launcher on your device to install new icon packs. So you need to download other icon pack apps and apply them the way you like. Sure, in most cases, this application will be compatible with the icon packs you download.